By Dr Selwyn R. Cudjoe
November 26, 2018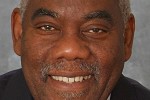 I am always astonished when I realize how unaware we are about certain aspects of our history. I had completed my book on William Hardin Burnley, the biggest slave owner in Trinidad, when I received a fascinating note from a reader.
"My name is Henry Albert. I am a retired accountant and working on a project with the goal of becoming a docent for Preservation Worcester, a local Worcester, MA nonprofit.
"The topic includes Andrew Haswell Green, a local man who became well known in 19th century New York City. Supposedly, Green's family knew William Burnley of Trinidad."
Continue reading 'Andrew Haswell Green'