By Stephen Kangal
April 05, 2017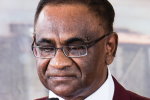 When the The Honourable Attorney General Faris Al Rawi tabled for approval by the House the Report of the EBC/Presidential Draft Order to legalise the package of measures for the holding of the THA Elections in January 2017 citizens saw that a 48,000 THA electorate albeit many absentees were gifted with 12 seats of assemblymen. This formula was deemed a successful and equitable model for Local Government by the PNM in Tobago with 3600 to 4500 electors per seat.

Compare this electoral largesse with the Trinidad-counterpart where 134,000 voters in San Juan/Laventille Corporation were allocated 13 councillors (10,000 per seat). The 48,000 Tobagonians now stand to have a double- whammy 12 more politically- selected seats in the proposed People's House.
We must resist this imposition and growing penchant for layers and layers of Government.
We must appreciate that the sister-isle of Tobago is endowed with enormous naturally occurring economic potential with a well-drained limestone soil permeating both the coastal hinterlands and the gentle rolling hills in the centre. In fact the ground can supply and deliver much of the local food requirements of Trinidad as well as the exotic foods demanded by the discriminating Tobago tourism plant.
I think that I have established a clear compelling case for the release and freeing up by the dominant THA statal sector of the varied human capital from continuing involvement in the non-productive, slavish adhering, stultifying, non- accountable THA Government expansive apparatus including URP and CEPEP.
The THA must innovate with the incentives and business incubators to release the state-dependent entrepreneurs to start up fruit, vegetable, tree-crop, dairy, cattle, goat and truck farming to say nothing of the resuscitation of the coconut industry since the anti -coconut-stigma has been quashed medically and nutritionally.
For a 48,000 electorate Tobago must have only one layer of the proposed autonomous THA governance model.
Let the others plant peas in Tobago and build mansions like Ashworth Jack did.
Must Tobagonians be accorded a skewed more equal status in elections and on what basis?
The whole island seems to be obsessed with doing Government wuk and wearing collar and tie to handle Central Government's handouts.