By Stephen Kangal
March 09, 2017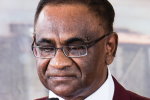 Some people progress on the basis of accumulating a unique repertoire of wisdom. They then mature incrementally into iconic stature by rendering+ unrelenting dedicated service to church and humanity such that their immediate family- members will surrender, quite understandably, their ultimate filial right to decide quite unilaterally, the nature of the final rites to be accorded to their deceased loved one.

Rev Sieunarine in his mission had outgrown and dismantled the parameters, constraints and jurisdiction surrounding his family. He belonged to and was truly loved and adored by all of us in the larger, wider and more inclusive national Presbyterian family.
Rev Sieunarine was such an iconic public figure of dedication to the growth and consolidation of the Presbyterian Church of T&T ( PCTT) that he was a virtual father figure to the thousands of young people in the Church.
A private internment was just not on.
The PCTT now exercised dominion- indeed first claim over the responsibility and opportunity to determine how his final rites were to be configured because he was bigger and larger than life being a husband to the matriarch and father of his two reverend sons- Adrian and Damien.
He touched the lives of so many in his unassuming pastoral mission for as long as I can remember that we should have been allowed pay our last respects, show our appreciation for the distinctive simplicity of his ministry that was driven by humility, conversational messages from the pulpit, unassuming elegance and a compelling sincerity that a memorial service cannot and will not replicate or fulfill.
This avid scholar of Hindi graced the Caroni Church on many occasions. He became part of the spirit and sanctity that prevailed within and was etched on its walls forever. He was a consoling father figure to so many of us in Caroni that whenever he entered its portals he ushered in an atmosphere of reverence, comfort and spiritual awe that permeated and humanised the faithful in the congregation.
The late reverend Sieunarine always telegraphed non-verbally that he understood fully well the demands of his challenging missionary role and function in a Church that was then adversely affected by a gradual decline in the contingent of ordained ministers some having left in search of greener pastures elsewhere.
For many of us he was immortal. He will never die because he has bequeathed a rich legacy of humble, unassuming service to embedding and promoting the ideals and mores of the PCTT in rescuing and empowering the perishing descendants of the indentured class post-1868 into entrepreneurship and the professions- into social. economic and spiritual emancipation.
Condolences to the bereaved Sieunarine family and the Presbyterian Church Church.