By Stephen Kangal
December 10, 2016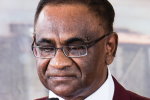 Having regard to the sword of Damocles hanging over the heads of T&T and the consequent urgency of concluding the FACTA debate by gaining the requisite 26 votes in the House on Friday last with the indispensable and exclusive assistance of The Leader of the Opposition I submit that The Honourable Speaker of the House, Madame Ingrid Annisette- George mishandled the earlier proceedings that had the effect of scuttling the substantive FACTA Bill 2016 debate.

FACTA was the main item on the Order Paper. The role of the Opposition was very critical at that sitting in both the amendments stage as well as in the final vote having regard to the fact that the current FACTA Bill 2016 is an exact replica of the 2015 PP Draft as were the current Gambling and failed Bail Bills.
Without the Opposition being present, the sitting was a glorified waste of Parliamentary time as it turned out to be. Without the presence of the Leader of the Opposition at the sitting, being their chief spokesperson on the Bill, the Opposition could and would not participate in the scheduled negotiations of the Committee of the Whole at that sitting.
Walking out with their Leader was the logical response.
So that when the Leader of the Opposition failed in her request to The Speaker to get her motion on the murder rate debated as a matter of definite, urgent and public importance there was indeed some mild disorder. But it was not sufficiently disruptive, in my view, to cause The Speaker to summarily and impulsively suspend from the sitting both The Leader of the Opposition and Member for Naparima.
Madame Speaker must learn to think quickly while she is her legs and feet. She has previously, regularly and quite arbitrarily suspended other members of the Opposition as if they were her infant students for minor misdemeanours and quite acceptable levels of banter/cross talk in the House. The House is not a church.
Anger cannot be used as a management/control tool from the Speaker's Chair. Maturity, discretion, fairness, judgement and good sense are the tools of effective House Speakers.
On this occasion taking into account the urgency of the FACTA debate that began on 9 September 2016 and ended on 23 September 2016 and the February 2017 deadline given by the US Treasury Department to T&T for passage of FACTA in Parliament as well as the key role of the Leader of the Opposition that Madame Speaker will be privy to prior to the sitting, she should have adjourned the House for a 15- minute cooling off period rather than adopt the draconian suspension of the key player in the subsequent debate. Suspension is an avoidable affront to constituents.
What am I to make of the immediate withdrawal of The Speaker from the House post the ill-timed suspension and the chairing of the FACTA monologue by the Deputy Speaker, the Honourable Esmond Forde?