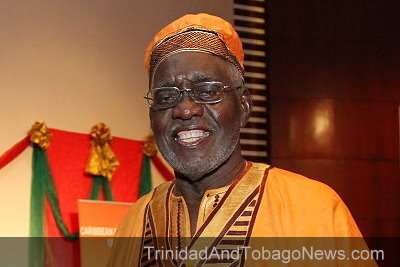 National Joint Action Committee's News Release
The Political Leader and members of the National Joint Action Committee (NJAC) along with Mrs. Liseli Daaga and family, sadly announce the passing of Chief Servant Makandal Daaga (formerly Geddes Granger), founder of NJAC and former Cultural Ambassador to CARICOM. Chief Servant Makandal Daaga passed away at the Port of Spain General Hospital at 1.35pm today (Monday 8th August 2016). Bro. Daaga would have turned 81 years on Saturday.

Bro. Daaga leaves to mourn his wife Sis. Liseli Daaga, four children (Kariomana. Akhenaton, Nefertari and Piankhi) and five grand-children, as well as the entire NJAC family and all conscious people in the region and the world over. Chief Servant Makandal Daaga was awarded the Order of the Republic of Trinidad and Tobago in 2013, in recognition of his selfless sacrifice and service to Trinidad and Tobago and the region. Bro Daaga led the Trinidad and Tobago Revolution of 1970, a movement which brought fundamental change to the Political, Social, Cultural, Spiritual and Economic landscape of the region.
Chief Servant Makandal Daaga has left an indelible mark on the history and consciousness of the people of Trinidad and Tobago, the Caribbean and the world. His undying love for the people, his selflessness, total commitment and sacrifice will always remain in the hearts and minds of all those who knew him or knew of him.
His passing represents not so much the end of an era, but the recall of an era which was characterised by a sincere search for self identity, a deep sense of nationalism and regionalism and a preparedness to sacrifice self interest and even life, for the attainment of these goals. Whenever the name Makandal Daaga is mentioned, it stirs up the recollection of all these ideals. This will continue to be so, even after his passing.
May He Rest In Peace.
A condolence book will be opened from 10.00 am tomorrow (Tuesday 9th August), at NJAC's Headquarters #40 Duke Street, Port-of-Spain, for all those who wish to express their sympathies.