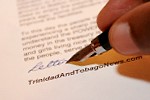 THE EDITOR: Last weekend I looked at a photo of Coast Guard ratings bearing the body of Harold La Borde and wondered if I was the only one who felt it was just a shallow, hypocritical charade.
I mean it's not like the La Borde's amazing achievements of sailing around the globe in a litte yacht he built right here meant anything. In other countries – y'know, those where self-contempt does not run as deep as it does here – what Harold, Kwailan and Pierre La Borde did would have been held up as models of inspiration for fellow countrymen and women. There was so much they did that spoke to the power of imagination and perseverance.

However, in this lovely 2×4 country as one radio personality kindly describes here – and a dung beetle paradise as another one does – it's different. Everything you need to know about how we view our historical accomplishments and personalities is answered by just looking at the rotting hull on South Quay that used to be the La Borde's vessel (insert Grey Friar's Church, CLR James' homes, the Magnificent Seven…….)
In fact, the very Coast Guard, that was given the task of bearing his remains, created history and was mentioned in the prestigious military journal Jane's when in 1965 the HMTS Trinity and Courland Bay crossed the Atlantic from England. This was repeated with the crossings of the HMTS Chaguaramas and Buccoo Reef, the TTS Casacadura and Barracuda and the 'Point-class' vessels. Are any of them in the water still? Well, yes, technically. Some are artificial reefs in the Gulf of Paria while others sold off as scrap iron. Yet some years ago I walked all over Admiral Nelson's flagship on which he was killed in 1805, looked at the famous Studio One in Jamaica and a reconstruction of a WWII Halifax bomber in Trenton, Canada.
What bothers me is not the indifference of many of those who will read this, but my own lack of anger towards them. I just eh expect nothing better from many of our educated elites and corporate parasites. Heather Macintosh told us nothing doh be good in Trinbago till some foreigner say so but Harry Belafonte and Pete Seeger did just that with our kasio and pan respectively and what difference did that make? Just last weekend, a newspaper cut and pasted (I assume) an article on the death of the Jamaican co-founder of Notting Hill Carnival…….not ONE word about radical activist Claudia Jones who also co-founded it and who was born right here.
Trinbago is by no means marginal in the maritime and aviation history of the world but say wha, more thing for Valentino, Stalin and Helon Francis to sing about. God help we when Angelo Bissessarsingh throw in the towel.
Corey Gilkes