By Stephen Kangal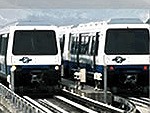 Government cannot be honestly embarking on a proposed Rapid Rail System (RRS) at a capital cost of $20 billion over 4 years and leave the people in the dark. They must be told how their money will be spent and what real reliefs to motorists and travelers will be provided by this astronomical monstrosity.

This $20bn expenditure will be a burden on current and future tax-payers when there is a serious risk of declining oil/gas revenues. The people have a right to know what contract will be awarded in December 2006 and how their present traffic woes will be mitigated ahead of this decision. We cannot be inflicted with another ALCOA deal shrouded in commercial confidentiality to which the Works Minister and PM are exclusively privy. The PM did not think it necessary to provide the population with requisite details.
Along what route will the proposed dedicated railway route be established? We need to know now.
So far we have only gotten dribbles of conflicting information from the Minister of Works as to the technical nature and configuration of the system.
At one time we are told that it is a light railway that is also known as a tramlink. At other times it is a rapid light railway. At other times it is a pylon suspended monorail on the PBR.
The latest version (Newsday, 15 October, p.14) of the RRS according to Minister Imbert is that the RRS will be a "normal train (that) carry the same number of passengers as 100 maxis and not ten maxis as Kangal has erroneously alleged".
That is to say that each train of the RRS will transport 2500 passengers (25 carriages) and travel at 80 mph along the East West Corridor.
The RRS has now been turned into an intercity commuter train similar to the British Rail/Virgin Atlantic London to Brighton or London to Birmingham Express.
Where will the long stations be built to receive these trains (25 carriages) that will be longer and bigger than the old Trinidad Government Railways?
Will the PBR be devoted exclusively (according to Imbert) to a dedicated transit corridor to the RRS or will it be located south of the CRH? If so how will it pass through St. Joseph as previously indicated by Imbert? The Minister must level with the population and tell us in convincing tones how the RRS will reduce the traffic on our roads when there is one car per 3 persons? Will it become a passenger nightmare when they are subject to muggers and bandits?
He must tell us how the RRS is superior, more effective, more cost efficient/flexible to the bus system of transportation?
The Minister said it would cost $300,000 per annum to operate?
What are the expected revenues from the RRS beginning 2009 when the first trains will be operational? Will it break even or is the $300,000 the extent of the expected subsidies? Will Bombardier operate a rail system and be paid from this $300,000? Who will pay for expenditures for spares and consultancy?
Will it be built, operated and maintained by the successful international tenders as stated by the PM and whose returns on their investment are expected to be high according to European/North American standards? The population is being duped.
Imbert must tell us when was the last occasion that a Minister's word on the estimated cost of a project kept within the budget and did not double or treble as the Brian Lara failure (from $225m to $550m and counting) as well as the Scarborough Hospital fiasco jumping from $120m to $240m thanks to Landate, with only 40% completed.
At what prices of goods, labour, services, electricity etc. was the $330,000 arrived at? Were they 2006 or 2011 prices when the RRS comes into operation? Or was that operations price tag exclusive to the first year of operation on the shortened system?