By Cecily Asson
March 15, 2016 – newsday.co.tt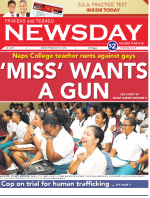 A TEACHER at the prestigious Naparima College in San Fernando, is under fire, for a rant against homosexuality, going as far as wanting a gun to deal with such persons and other problems in the world. The teacher is said to have made initial comments on the issue during morning assembly at the school on Thursday last and subsequently in a classroom session, in which she suggested dealing with homosexuals and other issues if given the gun.
Referring to the parents of a student who had openly professed to being gay, the teacher reportedly said: "He has two parents, who should not be parents.

They are both screw-ups, they are atheists, they do not believe in God." "You see me," she is said to have continued, "Give me a gun and I will fix all the problems in the world, both of them (parents) first, then their offspring. Do not tell me there is no God," she added while noting that persons with such beliefs should keep it to themselves.
The audio recording of which the teacher's voice has been identified, as the one addressing a classroom session, has gone viral on social media, generating numerous comments both for her gun talk and jab at homosexuals.
Yesterday, a senior official at the school confirmed the incident, telling Newsday that a report was being prepared to be passed to the Ministry of Education. The official said: "Yes, we have heard it and we are following the rules.
We have contacted the Ministry of Education and at this time, we are in the process of preparing a report" "At this school we do not judge, (students) we do not judge at all," the official said. "We will be delivering that report and we are treating the matter very seriously." Up to yesterday the teacher was still in the classroom and Newsday was told that she has been receiving support from members of staff. There has also been some counselling sessions for both students and teachers as a result of the incident.
According to reports, last Thursday, while conducting assembly in which there was a scripture reading, the teacher (name called) is said to have condemned homosexuality, immediately sparking debate among some of the students of the allmale college.
Newsday learnt that the following day, during assembly, one student marched to the front of the hall and told students it was okay "to be gay" before walking off. There was an uproar.
The female teacher who has been a member of staff, "for many years", later admitted to being "thrashed" by other teachers for her remarks. She then met with students on Friday to explain her side of the story and it was during that session, that she made some shocking statements to the point of even identifying the student by name, who she (the teacher) said was gay and called his parents atheists.
She said it is because of what he believed, the student could have gone in front of the assembly in support of gay persons. The teacher denied she ever made a pronouncement on "gay people" during assembly last Thursday, claiming that instead, all she did was read from Scriptures.
"And all Scriptures and doctrines say, that to be gay is wrong.
It is not something appropriate in the eyes of God. However, I also live in a cosmopolitan country whose watchwords are discipline, tolerance and production. Tolerant I can, if you want to walk with your jockey shorts on your head and leave your privates out all over the place, that is your right, your opinion, and I am tolerant to that.
"So you being gay, I don't care how you take a man or which man you take and what you do with him. That is your right. That is not my business. My issue is, you are here in a school, where there are impressionable young children and I don't want the perverted ones, which I know there are, to have an impact on the little ones," she said.
She further argued that being gay is not a disposition that "you were born with" and therefore it was not acceptable. "My issue is, when you turn 18 or 21, you can take a woman, you can take a man, you can take a dog, a goat, a sheep, a cat…I don't care. You are a grown man and you make grown-man decision. When you are here as a child, it is my obligation to protect you from what is wrong. At the end of the day, I make no pronouncements on people. You do what you want, but do not let what you do, affect the masses." The teacher said she hates violence and disrespectful students but later threatened to, "rearrange your blasted face", to any student who disrespects her. She then urged male students to take the good aspects of life with them as they go out into the world as they are the game changers for the society.
Contacted yesterday for comment, TT Unified Teachers Association (TTUTA) President Devanand Sinanan said he was aware of the incident but did not want to comment at this time.
"Because it is a teacher who may be a member of TTUTA, it will be inappropriate for me to make a comment at this time," Sinanan told Newsday.