By Stephen Kangal
January 11, 2015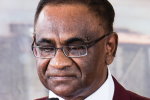 Ministers Shamfa Cudjoe and Robinson-Regis labored to point out that the PNM was in charge, albeit ostensibly of T&T now. But it seems to me that having regard to the sudden, unprecedented ideological shift of the PNM in drifting away irretrievably from its traditional "small-man" ideological moorings initiated by the late founder in 1956 to being sucked at present into the vortex and held securely in the vice of big business, it has to do the bidding of its capitalist campaign financiers members of the urban Chamber of Commerce and the Bankers Association.

T&T is now no longer PNM country. It has been mortgaged to the influence wielding, campaign financing and capitalist elites from whom neither derogation nor FOREX disclosures is permitted.
This is the only noticeable paradigm shift to be logically inferred from the illegal dismissal of the last Governor of the Central Bank because big business conglomerates were the ones exploiting and monopolizing the fast dwindling pool of FOREX and calling the shots.
They wanted this to be kept secret because they could not defend nor afford to allow this information to enter the public domain whilst SME's and the many ordinary citizens could not access FOREX to finance legitimate international transactions. That draw-down on FOREX – the financial patrimony of T&T had to be hidden from public scrutiny, transparency and accountability standards of good governance even though mitigating circumstances proved otherwise.
This is a water-shed period for the "young and politically untutored" PNM. It has now been forced and driven by imposed political and electoral necessity to abandon its traditional, well-known, developed socialist philosophical and ideological moorings to adopt and defend the much-maligned capitalist ethic of commercial secrecy involving the use of public property.
Whilst the PNM was opposed to the selection of Mr Rambarran as Governor of the Central Bank, big business engineered the catalyst for his unjustified and tragic execution or crucifixion. When Massy Holdings sneezes the PNM catches the H1N1 influenza. When the Chamber of Commerce says to jump the PNM says how high!