Daily Express
November 24, 2015 – trinidadexpress.com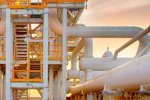 The National Gas Company of Trinidad and Tobago Limited (NGC) has terminated its contract with Super Industrial Services Limited (SIS) for the construction of the $1 billion Beetham Water Recycling Plant. The decision was taken after SIS said it was unable to continue with the controversial project.
The following is the statement issued by the NGC on Tuesday –

The National Gas Company of Trinidad and Tobago Limited (NGC) and Super Industrial Services Limited (SIS) entered into a contract on March 10th, 2014 for the Design & Build of the Beetham Water Recycling Plant for the value of US$162,055,318.77. The agreed contractual date for completion was October 21, 2015. To date, SIS, the Contractor, has failed to complete the project and has indicated in writing that they "are unable to continue the works" in accordance with the contract.
NGC and its team have continuously exerted best efforts to ensure that the stipulated contractual terms are satisfied. After careful deliberation, NGC has exercised its right to terminate the contract with SIS. This decision was prompted by our fiduciary responsibility to safeguard the interests and assets of the Company.
NGC has simultaneously commenced the initiation of any and all appropriate steps consistent with the contract with SIS and afforded by law to protect its interests and the interests of the citizens of Trinidad and Tobago. NGC recognizes that other stakeholders will be affected by this decision and will consult with key stakeholders as may be appropriate.
Finally, NGC wishes to reassure the national community that this decision, and all subsequent steps, have been and will be initiated in good faith, consistent with the signed contract and the law to preserve the assets of NGC and by extension the national community.
Source: www.trinidadexpress.com/20151124/news/sis-billion-dollar-contract-terminated-by-ngc