By Rhonda Krystal Rambally
October 04, 2015 – guardian.co.tt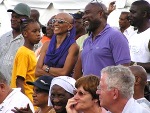 Anthropologist Dr Dylan Kerrigan says racist posts on social networking site Facebook are a cultural manifestation of the political climate and is suggestive of how T&T's society might become.
He described this cultural manifestation as "dangerous" and attributed this to failing social and educational institutions, the media, disconnected and irresponsible politicians and a lack of general critical thinking among the population.

He said the grassroots, who were political operatives and less educated, were being fed messages by the higher-ups who wanted social destabilisation to bring together their ethnic in-groups.
He found that the middle class was not engaged in racist talk.
Social media, he said, could be an avenue for sensationalism.
"While you can use it in certain ways to get reactions, what Facebook does is it removes context and back story. So what you see is the trending thing. You see name and picture but we don't really know the back story to the person and you don't get the larger context of Trinidad and Tobago's multi-cultural reality."
He was interviewed last Monday about the surge of vitriolic comments and at times racist posts circulating on Facebook before and after the general election.
According to him, it's a minority of the population involved in "fanning the flames" of race and racism.
He said, "The problem with Facebook is it's not set up for people to have discussions. Instead, it's set up for users to fire in with their comments.
"Facebook is a technology…a bunch of servers somewhere. How societies use Facebook is culturally relative. So Facebook postings are always shaped by the wider culture of a society. Before the recent explosion of racist postings, Facebook locally was understood as 'Macoobook'."
He said while T&T was not about to explode into ethnic violence, there were political cycles where tensions surface and seem "really bad" but that tended to dissipate.
"That's really the history of our nation for the last 53 years," he said.
He said T&T's ability to live and co-exist in a multi-cultural setting was one of its many strengths as a nation and was something we should teach to other societies.
Kerrigan is a lecturer in anthropology and political sociology, attached to The University of the West Indies, St Augustine campus.
Among some of his areas of focus are social change, power relations, race and class, class and culture, inequality, multiculturalism, and culture and politics.
Facebook not safe to discuss race
If the ground doesn't shift, and no effort is made to improve the situation among top-down institutions in the country, Kerrigan said he would be concerned the problem could worsen.
"That is a massive responsibility politicians need to take on," he said.
He said politicians were disconnected from the masses and were inside echo chambers surrounded by advisers.
He said the population also needed to become more critical of things affecting them.
Kerrigan questioned, "Can we say in the era of Facebook people are less critically engaged?"
Before the Facebook generation, the world was different.
"There was more depth to thinking. Think of the Caribbean in the 1970s. Now there's shallowness" he said.
He said many Facebook users regurgitate what they hear in conversations and younger users are not thinking for themselves.
Kerrigan said, "What is needed is classroom space where young people can talk about these topics.
"Facebook is not a safe place to discuss race."
Understanding racism
Racism is a learned behaviour. It's learned through groups, family and social institutions, said Kerrigan.
He said, "Racism is a very emotional thing and can stop people from thinking rationally. It is built on stereotypes which produce prejudice."
He said racism was a complicated matter in T&T.
"We can't say what is going on really fits the academic definition of racism because we have had Indian governments, Afro-governments and both groups have had access to cash and power. So we have a very specific type of race politics that does not fit the academic definition of racism as exclusion and oppression.
"We call it racism because that's the word for us but really, it's a sort of racial back and forth built off stereotypes and anecdotes from people's lives."
Explaining the complexity of race talk locally, he said some people can choose to be mean and horrible against others, while there are also times and spaces where some people have the social and cultural capital to make racist jokes and use racist language based on their affiliation and long-term history with people.
For example, he said, "With sports groups, family and friends, or a close lime, you can say things but if you took those same words into another space with other people they become racist."
Kerrigan said locally there are spaces where ethnic humour and picong can be quite playful but then there's spaces where it can be "straight up negative."
Racism is inward looking, where people tend to say things like "I am part of this group and you're not." "You're on the other side."
On the other hand, there's a positive, outward looking multi-culturalism, where all people are different. "That's what everyone has in common. We are all different from each other."
"Difference is the common factor of humanity we all share," Kerrigan said.
"Politically we've tried recently to play the politics of multi-culturalism, and of course it's in our national anthem and coat of arms too, but obviously in day-to-day life it does not always work.
"One political problem is that our political system is designed to pick a winner based on a first-past-the-post system which essentially shares political power between two large ethnic groups, so our politics is always going to be about race," Kerrigan said.
He said it is in the interest of political groups to mobilise and develop "a type of race talk" and racism because that's how "we decide who gets what, where and when in the country, depending on who is in power, they'll dish that out."
While it seems disheartening and people worry about ethnic violence and explosion, it's all about the game of power, money and politics, he added.
"If the political system rewards racial groups, of course those political groups will make sure, perhaps indirectly and through their grassroots people, that race is at the fore and centre. That our country has seen a spike in racism on Facebook post the general election should be an obvious sign of this.
"It emerged at a time when these elements of our society, our race and our culture are central to how power functions."
Source: guardian.co.tt