By Terrence Farrell
Aug 14, 2015 – trinidadexpress.com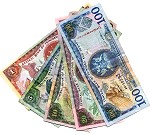 What has been the impact on energy sector revenues of the fall in oil and gas prices? Data published by the Central Bank indicates that in the first eight months of the current fiscal year, energy sector revenues have declined by $3.3 billion or 27.5 per cent. Total Government revenues declined by only 1.7 per cent because the proceeds of the tax amnesty and NGC special dividend helped to offset the fall in oil revenues.

Given the fall in oil revenues and in total revenues, what adjustments has the Government made to its expenditure during the current fiscal year? The short answer is none! In fact Government expenditures have increased. In the first eight months of the current fiscal year, total Government spending increased by $580 million or 1.6 per cent, notwithstanding the significant fall in transfers in respect of the fuel subsidy consequent on the fall in oil prices. Recurrent expenditure, including on goods and services has increased by about one per cent. It may be recalled that the Prime Minister had indicated that expenditure on (non-essential) goods and services would be cut. In addition, capital expenditure has increased by 9.3 per cent.
Source: www.trinidadexpress.com/20150813/editorial/reckless-endangerment