Tuesday, January 27 2009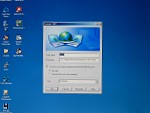 TSTT has advised that it is currently experiencing fluctuations in the throughput of Internet traffic from one of its overseas third party suppliers.
In a statement yesterday, TSTT said it was closely monitoring traffic levels and was actively re-routing traffic as needed. However, some customers, TSTT said, may experience intermittent delays when downloading or uploading data.
TSTT said it will continue to monitor the situation to ensure systems are returned to normal operating levels within the shortest possible time frame and will advise customers as soon as more information is available.
http://www.newsday.co.tt/news/0,94056.html