By Renuka Singh
July 05, 2015 – guardian.co.tt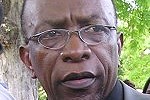 A planned walkabout in embattled Enterprise, Chaguanas, by Independent Liberal Party (ILP) leader Jack Warner yesterday upstaged an impromptu walkabout in the same area by Prime Minister Kamla Persad-Bissessar.
Warner and his ILP supporters walked right past the Postman Grounds where Persad-Bissessar and several top cops met with the residents to deliver football uniforms to the Crown Trace Football Club. The team has a game in Orlando, Florida, and the cost of flights and uniforms is being offset by the Government.

Even as Persad-Bissessar began her own walkabout moments behind Warner and took the same path that he did, she was met with a much different reaction.
She was joined by Minister of National Security, retired brigadier general Carl Alfonso; acting Commissioner of Police Stephen Williams; Chief of Defence Staff Major General Ken­­rick Maharaj; Central Division Snr Supt Johnny Abraham; and a 20-vehicle convoy. She was also accompanied by Chaguanas Mayor Gopaul Boodhan and MP for the area, Stephen Cadiz.
Warner was welcomed and cheered while very few people came forward to meet Persad-Bissessar and Cadiz.
The Sunday Guardian spoke with several residents, all of whom declined to allow photographs or give their names.
"Walking around now not helping we when we belly burning when the night come eh sister. People want jobs, people want to eat, drink and all they doing is talk," one man said.
When asked why Warner was welcomed while Persad-Bissessar was given a colder reception, he said they were "accustomed seeing Warner in the back here."
"We always seeing Warner, he was here a few times already just this week," he said.
Another man refused to speak to the media but stood some distance away saying that the area remained neglected for years. When approached by Cadiz he kept stepping back, telling Cadiz that he didn't know him and should leave him alone. "We never seen him in the back here," one man said.
Another said that they needed jobs, income, food and help in the Enterprise area.
Warner has met quietly with several of the alleged gang leaders in the area over the past week and said that Persad-Bissessar was making the crime situation "political."
"It's only on election time we seeing them," Warner said. "We didn't tell anyone that we visit the area, we tell no one that we talk with the men in the various sections."
Source: www.guardian.co.tt/news/2015-07-05/jack-upstages-kamla-central-walkabouts