By Clint Chan Tack
Thursday, May 7 2015 – newsday.co.tt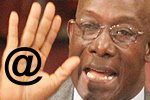 OPPOSITION Leader Dr Keith Rowley was last night suspended from the House of Representatives after Government used its simple majority to pass a motion to suspend him on the basis of claims he made with respect to the emailgate matter.
The motion was passed in the House at 9.15 pm, by a vote of 24 'for' to one 'against', hours after Rowley and 11 other People's National Movement (PNM) MPs walked out of the Parliament Chamber after debate began on a second motion of no confidence against him.

San Fernando East MP Patrick Manning was not present, having been granted leave by Speaker Wade Mark from yesterday's sitting. Foreign Affairs Minister Winston Dookeran and Public Administration Minister Carolyn Seepersad-Bachan were also not present for the vote.
Chaguanas West MP and Independent Liberal Party leader Jack Warner, was the only dissenting vote.
Full Article : newsday.co.tt