By Laurel V Williams
March 09, 2015 – newsday.co.tt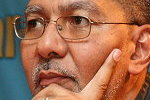 Movement for Social Justice (MSJ) political leader David Abdulah has dispelled speculation that his party would be joining forces with other political parties in the upcoming general elections scheduled for later this year.
Instead, he said the MSJ had 'conversations' with individuals in TT "who are equally upset about what is taking place in the country".

Such individuals, Abdulah added, want to see a political system and persons in office on the basis of no discrimination, non-ethnic, political, the fair distribution of resources to serve the common good.
Abdulah, in addressing supporters and media personnel yesterday at the party's Membership Drive, held at its head office at St Joseph Village in San Fernando, pledged to engage all citizens for the greater good of the country. "We will be engaging communities and citizens throughout the country on those issues because until those issues are addressed and we have social justice, we will be putting ourselves in a situation where this society is on the edge of a major eruption. People are hurting, in pain, angry about what is taking place," he charged. With reference to the destruction of acres of crops planted by farmers on lands at Guave Road, Chaguaramas, Abdulah said that farmers from other areas are also being dispossessed of their lands for housing and lack of water which is destroying their crops and livelihood.
The political leader explained that when those lands are being given away under surreptitious conditions, it is the people of this country who are being dispossessed from their patrimony — from their birthright.
" We are opposed to the dispossession of the people of Chaguaramas…" He accused the Kamla Persad-Bissesser-led government of failing the masses of this country noting that it is difficult for recent university graduates to get decent employment and most are instead working as on-the-job trainees.