Statement by Stephen Kangal on Panman Pat during his Conferral of the HOBA Award on Saturday 10 January 2015 for Dedicated Service to Country and College
By Stephen Kangal
January 14, 2015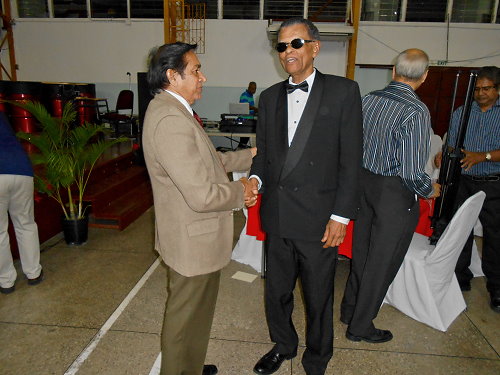 Panman Pat congratulated by Sat Balkaransingh

The Hillview College Old Boys Association (HOBA), on the happy and historical occasion of the attainment of the 60th Anniversary of Hillview College, today honours, with pride and enormous satisfaction a Steel-Band wizard, guru, cultural ambassador, acoustic percuttionist, calypsonian Monarch, pan pioneer in Canada and my former student of Hillview College of whom I am well-pleased, Mr. Patrick McNeilly with his kaiso sobriquet, Panman Pat.
This award symbolizes our recognition and deep appreciation of your pioneering role as a dedicated and activist Cultural Ambassador of T&T to Canada for the past 50 years. There you served as a devoted and committed vector and purveyor of pan and calypso music.
It appears to me that Pat wanted to compensate and repay the Canadians for having educated him in Trinidad at Curepe Presbyterian and at Hillview College- the latter a Canadian Presbyterian institution founded in 1955 in Tunapuna.
Prior to migrating to Canada in the late 60's, Mr. McNeilly, now 68 and visually-challenged, who hails from Curepe and while still a student at Hillview College, was instrumental in establishing the first ever history- creating steel-band in a secondary school in T&T at Hillview in the early 60's.
Rawle Swanston one of the players of that band is with us today to witness this honouring, glorification moment and fitting tribute to his leader and mentor.
Patrick credits the early ignition of his musical inspiration and journey to the piano playing of former Principal of Hillview College, Rev. Russel Alcorn and his wife Diane who lived near to Patrick during his early days in Curepe.
Patrick was also honoured by the T&T Consulate-General of Toronto with a Republic Day Award by Consul-General, Dr. Vidya Gyan Tota Maraj. That award was for his outstanding contribution to the preservation and spread of steel-band and calypso music across the Canadian landscape. He has been re-christianed as Panman Pat symbolising this versatile exponent and vector carrying the music and culture of T&T in his veins as well as across the Canadian cultural landscape and within the Caribbean diaspora in Toronto..
Patrick Mc Neilly developed and elevated steel-band genre of music to its rightful place in Canada. He was instrumental in getting the Steel-band music program accepted as a credit course with the Toronto Board of Education. For over 15 years, he has taught Steel-band at both elementary and high school levels in Canada. He has appeared in several Canadian TV programs.
Panman Pat is a professional pannist- an acoustic percuttionnist. We at Hillview are very proud of him. We thank him for journeying from Toronto to receive this award. We also thank those old boys who funded his air-fare to Trinidad.
He has performed in several countries and continues to perform in Trinidad and Canada for Carnival and Caribana.
Pat is a dedicated persistent cultural pioneer having embedded T&T Calypso music and steelpan culture on the Canadian landscape to cater for the sensitivities of the Caribbean diaspora for the past 50 years. The steel-pan is sewn into the very tissues of his soul from his early days in Trinidad.
He has achieved many "firsts" in Canada.
He was the first steelpan player to appear at the 1967 Caribana Festival.
He won the Canadian Calypso Monarch in 1983 and 1985.
He was a founding member of the Calypso Association of Canada.
In 2005 he received The First Pan Pioneers Award.
He introduced the steel-band curriculum for the Etobicoke Board of Education in the 1980's
Honoured by the North Albion Collegiate Institute for starting the First Pan Credit Course in 1984
Received A Republic Day Award in 2013 for Excellence in Pan Music\ from the T&T Consulate in Toronto.
Panman Pat the Publicist
Mr. McNeilly has written four books to document his love and commitment to the proliferation of steelpan and calypso music in Canada by introducing the art forms in schools in Toronto.
He has published "Hands on Steel-Pan" and "Students Companion to the Art of Playing Pan". His Fourth and latest Book is entitled "A Musical Journey".
Mr. Michael Lashley, former T&T Consul-General to Toronto during an address said that Panman Pat is a great patriot/exemplar of T&T who excelled as a Calypsonian Monarch twice, supreme pannist, performer, writer and cultural activist eminently worthy of the many accolades that he received both here and in Canada.
Panman Pat please arise and accept this HOBA Award from Minister Rudranath Indarsingh for having taken the maroon and gold to international heights. It is a mere token and symbol to adulate and recognise your exceptionally brilliant missionary role to the country that sent missionaries to Trinidad to evangelise and educate the rural dispossessed and marginalized.
That would have given you a good karma worthy of divine approbation and rewards in heaven.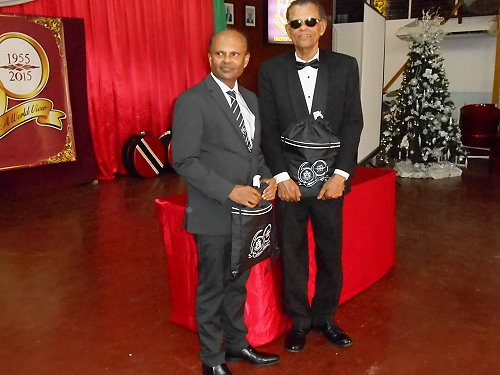 Panman Pat with Professor Dyer Narinesingh another Honoree