By Raffique Shah
January 11, 2015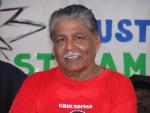 The public medical institutions in this country are in crisis. Note well that I did not say the "healthcare system" because while there have been some initiatives in promoting healthy lifestyles and preventative health care, these have not reached the mass of the population.
So we are saddled with a network of district health centres and a handful of hospitals that are charged with diagnosing and treating the sick, but which have failed to fulfil their mandate.

In the midst of an economic crisis that may yet spin out of control, a violent crime wave that defies police statistics, and political shenanigans that could make you weep with frustration, I have chosen to address the medical mess because of the many horror stories that have been drawn to my attention in the past few months.
Victims of the failed system have appealed to me to highlight the plight of the poor and powerless, those who cannot afford the services of money-or-your-life private facilities.
I should start with the good news: many people who utilise the services of district health centres, especially those that operate around the clock, have mostly good things to say about the staff and the facilities. Of course these are basic clinics that offer primary care, continued treatment for persons with chronic lifestyle diseases, and medication.
Except for peak hours or on particularly bad days, service is prompt and professional. However, there is the recurring problem of the pharmacies not having medications, hence the need for patients to purchase drugs, some of which are quite expensive. I am told that there is currently a critical shortage of vital medications, even at commercial pharmacies.
The real problems begin at the nation's main hospitals, especially the big three—San Fernando, Port of Spain and Mount Hope. I've heard some good things about Sangre Grande and only bad things about Point Fortin.
Since infirmities tend to increase with age, older people, often with no assistance from younger relatives, have to travel long distances to reach the hospitals. Pity the poor souls from the deep-south-west, south-east and north-east Trinidad where public transport is erratic, who must spend stressful hours travelling to the facilities.
When they finally get there, sick, tired and hungry, the torture begins. Mostly, they wait for hours to see a doctor, more hours to have preliminary procedures done (blood analyses, X-rays), beyond that to be handed prescriptions for medication that the in-house pharmacy does not have, or worst of all, the agony they must endure if they are to be warded.
The minimum time a patient spends in what is commonly called "casualty" is six hours. The average time is nine hours. And a nightmare could last more than 24 hours. No meals (unless you buy something from a vendor or the cafeteria), no rest (you sit on an uncomfortable chair), no pity from staff members, some of whom can be downright "hoggish".
Is that what citizens must be subjected to by a system that absorbs upward of five billion dollars a year? And that is only recurrent expenditure. Health Minister Dr Fuad Khan and the hierarchies of the regional health authorities must answer to the people.
Mark you, this damn nonsense did not start under Khan's stewardship, or the current RHAs. But it must stop at some point, so why not now?
What little I have mentioned above is just the scab of a festering sore that has afflicted the health system seemingly forever.
Let me add instances of additional horrors that I know as fact. Last week, a young man was stricken with what appeared to be a stroke (thankfully it was not). After going through the routine 24-hour torture at San Fernando casualty before being warded, the doctor ordered a CT scan. The family was told they would have to take him to a private facility since the hospital's equipment had "broken down".
Does that main hospital have one CT scanner, one MRI machine, one set of operators? How much do these vital pieces of equipment cost—more than the millions we pay people to wine at Carnival or to religions to mark festivities? But it gets worse. A 69-year-old friend was recently referred by his clinic to Mount Hope for an echocardiogram: he was told to return sometime in 2016! Back in 2012, he was diagnosed as needing surgery for cataract. If he is lucky, he will have that done in May this year.
What I gather from these cases and many more like them is that after spending tens, maybe hundreds of billions of dollars on the country's medical services over the past 40 years, we have hospitals that are not equipped with what should be basic equipment. Are we for real? And we claim to have world-class medical facilities? Orville London wants to promote health tourism?
Worse, the Government is building more hospitals, one at Couva, another at Point Fortin and, I believe, one in Penal.
What's the point in having shiny new air-conditioned buildings, maybe some beds on the inside, but inadequately staffed and equipped? We mad, yes.