By Andre Bagoo
September 09 2014 – newsday.co.tt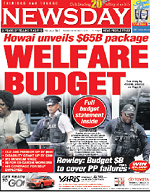 STATING Government is moving to safeguard the welfare of society, Finance Minister Larry Howai yesterday unveiled a record $65 billion budget. It contained increased benefits on a wide range of fronts, including pension enhancements which will affect more than 131,020 retired and self-employed persons, a new minimum wage, improved allowances for the disabled and easiser access to mortgages for more than 26,100 prospective homeowners.
In the fifth Budget of the People's Partnership administration, Howai announced:

* an increase in senior citizens pension by $500 to $3,500 per month, with a new maximum benefits cap of $4,500, effective October 1, 2014. Retired public officers will also get an increased pension, moving to a minimum of $3,500;
* an increase in the minimum wage from the current $12.50 to $15 per hour, effective January 1, 2015;
* an increase in the disability grant by $300 to $1,800, effective October 1, 2014;
* a new five percent mortgage programme for households with a combined income of between $10,000 and $30,000 for a maximum funding of $1.2 million;
* an increase in the public assistance grant by $300 across all bands; as well as an increase in personal allowances for individuals aged 60 and over;
* the disbursal of funds left in the Reserve Fund of Caroni (1975) Limited to all pensioners and deferred pensioners of that entity, closed since 2008;
* a tax amnesty on individuals and corporations who have outstanding tax returns outstanding for up to 2013 and a waiving of penalties for late filing of company registry documents, effective up until March 31, 2015;
* new tax deductible $1,000 savings bond from the Treasury.
"The welfare of our State is being safeguarded and we are convinced this Budget will continue to consolidate our vision of a stronger, fairer and smarter Trinidad and Tobago," Howai told MPs in Parliament at the end of his 125-minute presentation. "We are ensuring that the country's prosperity is equitably distributed among all our citizens."
Alongside the above mentioned measures was a 50 percent hike in penalties for speeding and other traffic offences, as well as 50 percent hike in penalties for offences related to praedial larceny. Legislation to tighten the working of the Hertitage and Stabilisation Fund, making it harder to withdraw from the fund, was also announced. Reforms to the Unit Trust Corporation legislation, designed to increase its flexibility, are also planned.
At the same time, the Minister made comments which suggested that while a new $410 million Constituency Development Fund is planned, its implementation will not take place before the drafting and passage of special legislation to govern it, matters which raised questions over its time-line of implementation ahead of the next general election.
On pensions, Howai said, the "senior citizens pension" will be increased by $500 per month to $3,500 per month at a cost of an additional $200 million. The measure is expected to impact 84,720 senior citizens. Further, the senior citizens pension will now be adjusted with the receipt of other pensions with a cap of $4,500. Pensions of retired public officers will also move to $3,500 per month, at a cost of $240 million. This will impact an estimated 35,000 retirees.
On inclusion of the self-employed within the national benefits scheme, Howai said legislation would be forthcoming to effect this. "I propose to bring the self-employed into the national insurance system with an amendment to the National Insurance Act," he said.
"This proposal will be effective January 1, 2015 and will impact initially 11,300 self-employed." The Minister said any self-employed person in the age group 57 and over, at the commencement of coverage in the year 2015, will receive a one-off payment equivalent to three times their contribution. Anyone in the age group 50-56 will be credited with additional contributions to allow them to receive the minimum monthly pension payments.
To this end, Government will inject $12.9 million into the national insurance system to cover the cost of additional contributions for self-employed individuals. Further, the State will subsidize payment of contributions by low-income self-employed persons, defined as persons who earn less than $3,000 per month, in an amount equivalent to two-thirds of the contributions due. The Government will inject a further $41 million into the national insurance system to meet this liability over the next five years but with an injection of $4 million for fiscal 2015. Further, the transition for the self-employed into the National Insurance system will be fully-funded for the first year only at an additional cost of $2 million.
The increase in the minimum wage, Howai said, was "in keeping with the recommendations of the Minimum Wages Board." In relation to the disability grant, the Minister said the new grant of $1,800 per month will cost an additional $86.8 million and will impact 24,100 differently-abled individuals. The public assistance grant will also be increased by $300 across all bands. This will cost $89.3 million and will impact 24,797 citizens.
Howai also said the personal allowances will be increased from $60,000 to $72,000 for the calculation of individual taxes; at a cost of $53.3 million. The measure takes effect from January 1, 2015.
On measures to make housing more accessible, Howai announced a new five percent mortgage programme to benefit 26,100 applicants at the Housing Development Corporation. He said the State would expand the existing 2.0 percent mortgage programme by increasing qualifying property values from $625,000 to $850,000 and by increasing the combined monthly income of households ceiling from $8,000 to $10,000. To supplement that programme, a new 5.0 percent mortgage programme for households with a combined monthly income of greater than $10,000 and less than $30,000 will be implemented. In relation to the latter, persons will be eligible if they are working towards accessing a mortgage greater than $850,000 but not exceeding $1.2 million. On pensions for ex-Caroni (1975) Ltd workers, Howai said in May 2016 disbursal will be made from the Reserve Fund.
"I propose that the balance remaining upon the termination of the Reserve Fund in May 2016 be distributed on a pro rata basis to all pensioners and deferred pensioners of Caroni (1975) Limited," the Minister said. "I am also putting in place a mechanism through which those beneficiaries who had not yet paid for their residential service lots could now do so through a commitment to Caroni of their portion of the residual balance."
The second tax amnesty will be offered for tax penalties and interest for late filing of returns and late payment of income, Corporation and Value-Added Tax, the Business Levy and the Environmental Levy. The amnesty will apply to returns, penalties and interest on outstanding tax liabilities for years of income up to 2013.
"Accordingly, all individuals and corporations who have outstanding tax returns or outstanding tax liabilities and associated interest charges will have these interest and penalties waived if they comply by March 31 2015," Howai said. "This measure will require amendments to the Income Tax Act, the Corporation Tax Act and the Value Added Tax Act. This measure takes place with immediate effect and will expire on March 31 2015."
The Minister also said the new programme to provide financial assistance to mothers totalling $500 per month will be for one year only for any child born to underprivileged parents. The measure had been announced by Prime Minister Kamla Persad-Bissessar on Saturday.
On the proposed $410- million Constituency Development Fund, Howai placed this within the context of legislative reform, noting new legislation for term-limits for prime ministers, the right to recall and runoffs. He stated, "We shall take steps to ensure the appropriate resourcing of the offices of our 41 parliamentarians so that they all have the capacity to represent effectively their constituents." However added, "I propose to allocate $410.0 million for the Constituency Development Fund for the upcoming fiscal year; but the Fund will only be operationalised subsequent to the establishment of the legislation, associated regulations and the implementation of the appropriate control environment." He gave no time-line for these matters.
On the question of the future of a planned initial share offering of state assets, Howai said these remain on track, notwithstanding concern about the administration of the First Citizens Bank IPO. "As soon as it is appropriate the National Gas Company will be offering to the community 49.0 percent of its shares of National Gas," the Minister said.
The Budget was based on a price of US$80.00 per barrel for oil and a gas price of US$2.75 per mmBtu. Total expenditure net of capital repayments and sinking fund contributions was estimated at $64.6 billion, while total revenue was put at $60.3 billion (oil: $21.2 billion, non-oil: $39.1 billion) with a deficit of about $4.3 billion, which Howai said was about 2.3 per cent of GDP. The Minister said this was in keeping with the Government's commitment to reduce the deficit by one percent per year.
The Tobago House of Assembly was allocated $2.609 billion, of which $2.202 billion will be for recurrent expenditure, $384 million for capital expenditure, and $23.0 million for the Unemployment Relief Programme (URP). However, Tobago will also receive an additional amount under different ministerial headings. "In 2015, we anticipate that close to 100.0 percent of the population will receive a 24/7 supply of water," Howai said.