August 29, 2014 – guardian.co.tt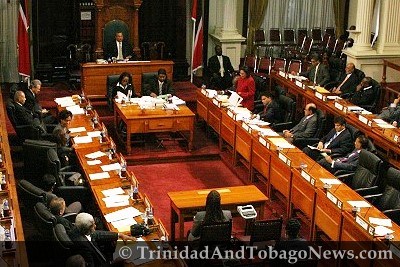 The controversial Constitution (Amendment) Bill 2014 was passed in the Senate last night with the support of Independent Senators Dhanayshar Mahabir, Rolph Balgobin and David Small.
After almost three days of heated debate, the bill was passed at 11.09 pm with a total of 18 senators voting for it and 12 against it. All the Opposition Senators present and six independents voted against the bill. However, the bill received the three Independents' votes only after Prime Minister Kamla Persad-Bissessar agreed to accept an amendment to the controversial runoff clause put forward by Mahabir.

Mahabir proposed that a third place candidate in an election, who gains 25 per cent of the votes and who is within a margin of not less than five percentage points of the second place candidate, also be allowed to contest the runoff election. He said this triage system will give all parties a fairer chance in an election and allow the third parties a chance.
Initially, the Government had proposed that only the top two candidates would contest the runoff if neither of them gained at least 50 per cent of the votes. But many argued that this would kill off third parties.
As it turns out, however, in the runoff election as proposed by Mahabir, the Government also agreed to waive the 50 per cent winning margin for the three candidates. This means the winner of the runoff could win the seat without gaining at least 50 per cent or more of the votes. Persad-Bissessar also accepted Balgobin's proposal to recall a non-performing MP after two and a half years instead of three. The PM also accepted an amendment proposed by Small that people wishing to recall MPs must get the support of 20 per cent of the voters in a constituency to apply for a petition. The original clause had a 10 per cent threshold.
Small, supported by his colleagues, said this would avoid mischief. There was heated debate on the controversial bill during the committee stage, after all the remaining Senators had earlier made their contributions. During discussions in the committee stage, PNM senators maintained a non-supportive stance, expressing their complete rejection of the bill because of the fact that there was no consultation on the runoff aspect. During the recall amendment discussion, PNM Senator Faris Al-Rawi wanted to know where the 20 per cent figure came from and what did the consultations say about it. Small replied that he didn't just pluck the 20 per cent out of the air. He said after discussions with an international recall expert, he concluded that 20 per cent, which could mean 5,000 or 6,000 voters in T&T, was reasonable.
Source: http://www.guardian.co.tt/news/2014-08-29/bill-passed-after-heated-debate