By Julien Neaves and Marlene Augustine
August 13 2014 – newsday.co.tt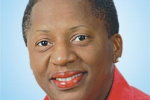 FORMER Arima MP and Leader of Opposition Business in the Senate, Pennelope Beckles-Robinson, says Government has been "misleading the people" that the issue of a runoff elections was included in the consultations by the Constitution Reform Commission and described the government's attempt to introduce constitutional changes at this stage as "an exact replica" of what occurred with Local Government elections and proportional representation.

She was speaking with the media on Monday after attending the sitting of the House on the Constitution (Amendment) Bill which has three main provisions: runoff elections in a constituency if no candidate receives 50 percent or more of the vote; right of recall of MPs; and a limit of two terms for prime ministers.
She said these three issues are being dealt with a year before general elections and recalled that the Government had also attempted to introduce proportional representation just a few months before the Local Government elections in October 2013." And they again were claiming that you had proportional representation in the report and I drew to the attention of the Parliament (then) that there was no such thing in that report.
So you have a total repeat where they are coming again and saying that you had it in the report and clearly it was not in the report," she said.
She pointed out there was a private and confidential document that went to the Prime Minister that appeared to have raised concerns, but it was not for public consumption.
"So the truth is that it is an exact replica of what took place in relation to Local Government…where they came and said you had this during the consultation — when you check the report it was never there," she said.
She also said if there was something in their manifesto and they wanted to bring it forward then that was fine "but don't go and use people's credibility (those in the commission)…(and) that recommendation was not there." Beckles-Robinson added that if it was part of the consultation they should be able to provide documentary evidence.
Communication Minister, Vasant Bharath, in response to criticisms over the bill by Opposition Leader, Dr Keith Rowley, said that Beckles-Robinson and Diego Martin Central MP, Dr Amery Browne, attended and participated in the Arima and Diego Martin public consultations.
She responded yesterday: "I attended the Local Government consultation, I attended the consultation on the Constitution. There were certain issues that I wanted to put forward when I attended. I don't know why they are using my name like if is to suggest that I have condoned or supported it."
On the term limits for the prime minister and the right of recall for MPs, she noted that it was included in the Partnership manifesto but for the runoff "that is a totally different story and when you look at the bill it's very complex issue." On the recall, she noted there was no stated criteria for performance and the requirement of 21 people signing a petition and three quarters of a constituency signing one year before the four year period, "I really think it is quite a joke because I don't see how that is going to happen."
She also spoke about the gathering of protesters outside the Parliament.
" We have seen it where people come out for days to give their views, and I think it is important that people are here and it's important for the Government to pay attention more and more. We understand that we have a little population. The important thing is that as a people we are realising that people have been becoming more literate, they are educated and knowledgeable, they want to be part of the political process…," she said.
"I don't think that runoff is power to the people, power to the people is what you see here today, you cannot casually say that runoff is power," she stressed.