By Richardson Dhalai
July 16, 2014 – newsday.co.tt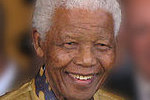 Public Administration Minister, Carolyn Seepersad-Bachan, has advised the nation to embrace the ideals and principles of former South African president, Nelson Mandela, saying "his life principle of 'Ubuntu' or 'I am because you are' can greatly benefit our nation as it deals with the inequities in our society."

Seepersad- Bachan was addressing a UNESCO sponsored youth rally titled "the Mandela Effect-respect for all" at the Harris Promenade, San Fernando yesterday.
Recalling that one of the most important lessons to be learnt from the legendary freedom fighter was his "belief in the future and the children who would be the future" saying he also promoted education as a key instrument of liberation having also set up the Nelson Mandela Children's Fund, The Nelson Mandela Foundation, the Mandela Rhodes Foundation, and the Nelson Mandela Centre of Memory.
"When we think of Mandela, we think of the man, the great President who inspired the world with a quality of leadership based on servanthood and an ability to unite diverse peoples into a strong unified nation," she said, and noted that the child Nelson was born before World War 1 and grew up in rural South Africa herding cattle.
"And yet he emerged as a qualified lawyer, a great liberator and a statesman. This evolution was not accidental. He was nurtured by the wisdom of his elders — in the same way that many of you, children, here today are nurtured by your parents and teachers — strengthened by the indignities, the insults the abuse and the malice directed to his people and succored by the hope that life could change, that there was abundance in his country that all could share.
"If we understood that our very being is inter connected with all others on our journey, that we exist because others do and without each other we are nothing. It matters not our educational levels, our wealth, our social standing. We are here for each other,' she added.
"This philosophy which is at the very core of Nelson Mandela's belief and which would guide his actions throughout his illustrious life is known as Ubuntu," she said, adding, "We refer to this principle as 'I am because you are."
http://www.newsday.co.tt/politics/0,197703.html