By Marlene Augustine
July 4 2014 – newsday.co.tt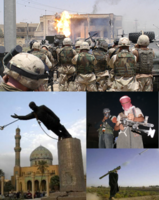 On Sunday, July 6, Marli Street will be co-named with that of Private First Class (PFC) Le Ron Adrian Wilson, a Trinidad-born, US soldier who died at the age of 18, while serving in "Operation Iraqi Freedom" in Baghdad, in 2007.
In a release from the Port-of-Spain Corporation, it was stated that the name of PFC Le Ron Wilson Way, will be added to Marli Street in dedication of this young soldier who fell in the line of duty.
Mayor of Port-of-Spain, Raymond Tim Kee and members of the council will collaborate with the Ministry of National Security, the Trinidad and Tobago Defence Force and the United States Embassy to pay tribute at the historic event. A memorial service will proceed at the All Saints Church at 3.30 pm, immediately followed by an unveiling of the name plaque to be added to Marli Street.

Newsday spoke with Wilson's father, Major Lawrence Wilson, who said he was happy and honoured the activity was happening.
"I am happy and honoured that this activity is happening to commemorate and recognise a son of the soil, a Trinidadian-born, who did extremely well in his service,"his father said.
According to his father, there were also mixed feelings on the matter, because while this is happening, there is also a lot of sadness to this initiative. "I am aware on how I felt all these years…it has been seven years not having his name in some way recognised… so that I feel the pain for other families in the same position… I know now, there was a unit formed two years ago, out of the Ministry of National Security, now starting to treat fallen service men with greater respect, so I am also happy for that unit as well," he said.
He revealed the family had a lot of support and was assured the event will take place.
"It has been seven years, and as time heals, there is a permanent whole. Around this time every year, it is very hard, because the absence of his name not being remembered was very hard to deal with. Any soldier, police officer fall in the line of duty, is not only their job, but it is a sacrifice someone give to humanity, defending their peace from that perspective," he said.
In 2006, Wilson was the youngest soldier to enlist in the United States Army. One year later, at 18, he was the youngest to die in Operation Iraqi Freedom in Baghdad. However, he was declared an American hero.
He was awarded the prestigious Purple Heart and Bronze Star, as well as badges for good conduct and courage.