By Raffique Shah
March 16, 2014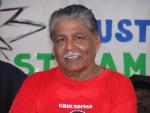 Two or three Carnivals ago, when Pan Trinbago introduced an exclusive party zone to the people's Panorama, I protested, warning that the organisation that was supposed to protect and promote pan was instead disrespecting pannists and the national instrument.

Today, my worst fears have materialised. The centrepiece of our Carnival, the sweet sounds of steel that make us overwhelmingly different to other street carnivals around the globe, is being strangled to death by its step-parents and care-givers in a macabre ritual of death by friendly fire, or better put, "pano-cide".
By being complicit in staging a pool party for the well heeled who know and care only about partying, not pan music, those who are responsible should hang their heads in shame—if they have any.
Just how a pool party on Panorama's biggest day (yes, the 'semis' are bigger than the finals) interests or encourages young people in the national instrument, as I've heard Pan Trinbago officials say, defies logic. Can Keith Diaz and his motley crew seriously look into the faces of the thousands of young people, many of them secondary school pupils, who sacrifice so much of their studying and partying time to learn, practise and play pan music for love of the instrument, love of country, and tell them that crap?
I have long argued that the one aspect of our culture that has a secure future through the active involvement of so many youths and females is pan music. When, up to a few years ago, I made the rounds at panyards in and out of the Carnival season, I was very impressed with the young pannists who displayed discipline, dedication and that yearning for excellence in their craft.
There is no easy road for aspiring pannists. They hone their skills in near primitive environments since few panyards are player-friendly. Often, they lack basics such as washrooms, seating and other accommodations. Parents and guardians must take credit for encouraging and overseeing the young ones, as must the bands' administrators who looked after their tuition and safety.
I do not have any data to support the next statement I make, but I feel certain that the youths who play music with steelbands are hardly likely to get involved in crime. Like sports, music offers young people an avenue to explore their talents, to occupy themselves with something positive rather than succumb to crime that has virtually consumed so many of their contemporaries.
Steelbands in crime-ridden communities are oases of hope that the society as a whole should support. Pan music, if properly harnessed, might well be an antidote to crime.
So these children and their seniors practise for months, they make the cut to the Big Yard, and they have all of seven minutes on stage to impress the judges and pan aficionados who swarm the Savannah to listen to them.
What happens? Noise (well, what they listen to is hardly music) from the super-expensive, all-exclusive pool party enclave blares from big boxes, raining on the bands' big parade. Officials say the DJ music will stop when the bands are ready to perform. You tell that to screaming, drunken people who don't give a fig about pan music. I know of what I write. I was a North Stand 'panatic' during its most vibrant, and, I admit, noisiest years. That temporary, costly facility was the 'party stand' while the Grand Stand catered for the more laid-back, some might say serious, pan fans. But for all the noise we made, once a band came on stage, any band, you stayed silent or faced the wrath of pan lovers around you.
Oh, there was rampant drunkenness, wild wining, loud singing (to the house music or the bands), even the odd fistfight. But we didn't need the police to quell fights or unwanted noise—because we went to have a whale-of-a-time and, more importantly, to listen to the bands play.
During the performances, some bands would almost break down the stand as fans danced and wined and wailed, shouting, "Oh Gawd, dat is sweet pan! Music, sah! Yuh hear it?"
Once upon a time, the "semis" were staged on Carnival Thursdays, starting at around seven in the evening and running to 'fore day morning'. Preliminaries ran over a weekend, Saturday and Sunday. We attended both days, and on both days there used to be big crowds. Who is aware than the small bands had their "semis" yesterday? I'm sure not many are, and fewer will have attended.
Look, there are problems with pan, with calypso, with the whole damn Carnival, that I do not have the time or space or energy to address. I have yet to hear a calypso or see a costume design that impresses. Pan music is the only component that rises to expectations.
I concur with Diaz and his executive that they need to implement innovations. But a pool party at Panorama is not an answer. It's an insult to all pannists and to the national instrument. Surely, the organisers can do better than fire a weapon of mass distraction on their own troops, in a manner of speaking, killing them not so softly.