By Richardson Dhalai
Thursday, March 06 2014 – newsday.co.tt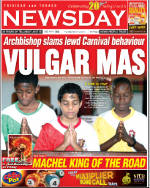 ARCHBISHOP of Port-of-Spain Joseph Harris yesterday attacked the lascivious behaviour of some masqueraders in the just concluded Carnival Season, conduct which the leader of the Roman Catholic faithful in this country described as symptomatic of the pervasive lawlessness in society.
In a forthright, sobering Ash Wednesday homily at Our Lady of Perpetual Help RC Church, Harris Promenade in San Fernando yesterday, Fr Harris also observed that all aspects of national life, including that of giving to the poor and indigent, must change if the Carnival-type mentality is to be transformed.

"The Carnival has ended. I suppose it would have been a miracle if the behaviour of some revellers were different…but unfortunately that miracle did not occur," Harris told a packed congregation which included students from the San Fernando Boy's RC and St Gabriel Girl's RC primary school.
"The lascivious and lewd behaviour being exhibited by some of our people, in my opinion, has nothing to do with culture. If it had, then our culture certainly needs to be evangelised," Harris said as some in the congregation murmured, "Amen."
The Archbishop's admonition against vulgarity in Carnival came just two days after a 17-year- old girl was hauled before a San Fernando magistrate on Carnival Monday charged with exposing herself in public. The teen was arrested after she stripped completely naked while participating in J'ouvert celebrations in San Fernando. Even after stripping naked, the charges allege, the teen also behaved in a lewd manner in public. The case is still pending in the courts.
"Let me now say categorically that the behaviour of certain individuals during Carnival celebrations is not the only aspect of our national life which needs to be transformed.
The pervasive attitude towards corruption, disrespect for life, lack of respect for the poor and indigent and the attitude of mind which says that the colour of a person's skin is more important than the content of their character…these are aspects of national life which need transformation," Fr Harris said.
He said "evangelisation" of culture was an obligation "incumbent on our Church and on each and every one of us", adding that this could not be achieved by "staying away from it", but by entering into it and letting the Church's creativity transform the culture.
And with the Lenten Season also being a time for almsgiving, the outspoken Archbishop also urged the Catholic faithful not to perform good deeds in order to be recognised by people as, he said, is done by politicians.
"The Gospel, using the words that Jesus tells us, takes care not to perform righteous deeds in order that people may see them, otherwise you will have no recompense from your Heavenly Father," he said, adding, "these words of the Gospel, are particularity striking because we are accustomed to seeing politicians doing good deeds but always with a camera person recording the deed for posterity or perhaps for the next election."
Harris also observed that "more and more persons" were leaving the nation because of a lack of hope for the future. "Because of the situation in our country, many people are losing hope.
More and more persons are leaving this nation of ours because they have no hope in our future. Many parents are encouraging their children to study overseas and to not come back," Archbishop Harris added.
He called for a transformation of the heart and not of the garment saying the Gospels emphasises "transformation of the heart."
"Come back to me with all your heart, it is the Lord that speaks, let your hearts be broken, not your garments torn," Harris said. "Focusing on the externals do not allow us to build the internals and any worthwhile transformation of our nation will only be built on the transformation of us," he added.
Following the homily, Harris assisted by Father Roy Ragoonanan, placed ashes on the foreheads of the Catholic faithful as a sign of repentance and in preparation of the 40 days of Lent which is a special time of prayer, penance, sacrifice and good work in preparation for the celebration of Easter celebrated on April 18-21.