By Nalinee Seelal
January 18 2014 – newsday.co.tt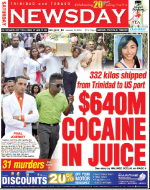 THE biggest ever drug bust in the history of the Norfolk Port in Virginia, United States was made on December 20 when US Customs Border Protection officers seized 332 kilos of cocaine which originated from Trinidad and Tobago and which carries an estimated street value of US$100M or TT$640M.
The cocaine was stored inside tins of Trinidad Juice Company juices which were part of a consignment of goods that arrived at the Norfolk Port after being shipped from Trinidad. The cocaine, believed to have originated from South America, was hidden inside 700 juice tins bearing the markings of the Cooperative Citrus Growers Association (CCGA) which is located off the Eastern Main Road in Laventille.

The cocaine was found on December 20 at the Port of Norfolk inside a shipping container bound for New York. Officers used advanced technology to perform an initial inspection of the 20-foot container which arrived from Trinidad and Tobago.
After anomalies were discovered, officials did a more extensive search which led to the discovery. Officials discovered the drugs by, "cold hit", meaning officials received no significant intelligence about its presence. Rather, a Customs and Border Protection officer targeted the shipment for inspection several weeks before the drugs were seized using port knowledge, automatic targeting tools and information about recent smuggling trade.
"As a result of this partnership and hard work of all involved, 332 kilograms of cocaine has not made it into the streets of the United States," Norfolk area port director Mark Laria said.
While no arrests have been made yet, officials are conducting an investigation, said Scot Rittenberg, acting special agent in charge of Homeland Security Investigations' Washington field office.
Contacted for comment yesterday, Acting Police Commissioner Stephen Williams said he was not aware of the drug bust but said it was possible other sections of the TT Police Service may have been appraised of the seizure.
Yesterday, SM Jaleel, the local drinks company which acquired the Trinidad Juice Company issued a statement on the bust.
"We have always taken pride in the high level of quality and standards that we have adhered to for our products and have and will always continue to comply with various legislations both locally and internationally relating to production and exportation of our products.
"It has become common knowledge that criminals involved in drug trafficking have been using mechanisms to transport cocaine, inclusive of items such as fruits, car parts, lumber, hardware and various others. It now appears that someone may be trying to utilise our company's product in this regard. "We too have only just been recently informed of the situation that occurred almost a month ago on December 20, 2013, regarding the use of our TJC orange and grapefruit flavoured juice tins in the smuggling of cocaine into the United States and have to date, not been contacted by the relevant US authorities in connection with this matter.
"Trinidad Juice is officially exported to the US throughout the year. All export containers which were shipped by the Company in 2013 were officially received by the authorised food and beverage company, the last such shipment being received by them in November. This December shipment referred to last night (Thursday) in an ABC TV Channel 13 news report, was not made by SM Jaleel.
"To date neither the Narcotics Bureau of the TTPS nor Trinidad customs have been contacted by the US authorities. From this we can deduce that this is a foreign issue which will be resolved abroad.
"At present we have no knowledge or evidence of the details other than the press release from the United States. We have already commenced our own internal investigation; however, we are not yet in a position to provide any further details at this time," the SM Jaleel release stated.
The Citrus Cooperative Growers Association, representing all major estates and farmers growing oranges and grapefruit started producing tinned juices under the Trinidad Reconstituted Juices brand over 75 years ago. The company was sold to SM Jaleel & Co Ltd in 2009.
National Security Minister Gary Griffith confirmed being aware of the drug bust and said he is awaiting an official report on the matter before making a public statement.
"Based on joint operations and intelligence between our foreign allies we are now seeing these dividends being reaped and just recently over 880 kilos of cocaine being seized through our agencies inclusive of the transnational crime unit and others working with the Spanish police, we are the ones who provided the intelligence," Griffith said.
He also noted a few months ago local authorities worked with the National Security Agency (NSA) of the UK and the French customs where over 300 kilos of cocaine was seized. "Our opening of dialogue with our Venezuelan and Colombian counterparts has also proven to be highly productive."
Griffith said it showed that sharing of information and joint operations with international allies, "is ten times more beneficial than acquiring 100 off-shore patrol vessels." He added that it is his intention to implement heavier mechanisms at the airports and borders.
Yesterday, Trade and Industry Minister Vasant Bharath said, "Clearly all Trinidadians should be concerned because this brings the spotlight on Trinidad and Tobago for the wrong reasons. I am certain that it will be obvious that it will not be the manufacturers of the product who will be involved in these activities.
"However, it is very important that our manufacturers be more vigilant with regard to where their products are being sold and by whom. The food safety legislation recently introduced by the United States will ensure there are a greater number of checks of food items entering into the United States, so therefore the incidents of these practices should be significantly reduced."
A source at the National Operations Centre (NOC) said the agency together with the Police Service are working to assist US authorities in their investigations into the drug bust. The source said efforts are being made to determine if the juices emanated from out of the CCGA, if persons privately purchased the juice or even the labels and then concealed the cocaine inside tins which were then labelled and sent to the US. Yesterday an official from the CCGA told Newsday the company has launched an internal investigation.