By Stephen Kangal
July 10, 2013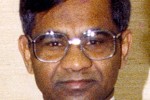 Warner chose the maximum advantage-minimum cost political strategy to enhance and repair his damaged post-FIFA image and to restore the political status quo ante- the Palmiste debacle.
All that he is alleged to have committed and not proven took place outside of the jurisdiction of T&T within the largessse of the FIFA culture of gift-giving. He did not steal from the people of T&T. The four legal opinions have discredited the Simmons Report as being legally and procedurally flawed and therefore worthless.

The attitude of the South-dominated UNC towards this move will determine how politically savy or neemakharam they are or can be. In this scenario political security is mortal's chiefest enemy and UNC has the seeds of their own political demise and destruction if they were to choose to go against the wishes of the Chaguanas West constituents. Remember this man defeated the mighty and politically immortal BP who strode Central like the towering Dattareya Hanuman murti and has cultivated and embedded a strong and impregnable base amongst those were marginalised and discriminated against in Chaguanas.
He was their savior. He undid 50 years of ethnic marginalization and DLP/ULF/UNC neglect. Do not talk to them the Chauhaners about remote FIFA-ethics when they were ketching crabs and their 'arse'. He was their unprecedented and long-awaited political messiah who brought their interests into the mainstream. Do not give the Felicitians poverty again lest they might chose to steal against their karmic prescriptions.
Those who are wondering about the ratio dicidendi of Warner's master-stroke have not seen the Green pyrotechnics and boiling climax. He will annihilate the enemies "within" and bring about a new janaam or watershed in the politics of T&T.
Do not lecture Chauhaners West (CWC) about ethics and principles that consigned them to be "permanent" hewers of wood and drawers of swamp crabs that JAW changed forever. Panday et al were of good character but what did they deliver to the people of Felicity as part of their political legacy and representation? This is politics- the art of the possible and strategy to compromise in the national interest- the allocation of the rewards of the state that eluded these Chauhaners continuously under the PNM and the PDP,DLP, ULF, NAR, UNC.
Were the PNM to return to power they will be again victimized and forgotten under the guise of urban regeneration and rural neglect. Drunk or sober they the Chauhaners must mind their own political business and elect a proven MP because the hot spots(law beakers) are commandeering an unjust and inequitable share of the resources of Dharti Mata T&T.
It took a black man from Arouca to deliver the Promised Land to the Chauhaners and this they will not forget.