By Raffique Shah
Sunday, December 7th 2008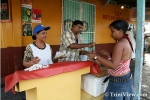 I can't claim to have known anything about Consumer Affairs Minister Peter Taylor until two weeks when he singled out "doubles" as a target for price reduction. That statement signalled to me that the minister was doubly ignorant about his portfolio, maybe even wholly unsuited for the job. Indeed, Prime Minister Patrick Manning, who will read this column from a hospital bed in Havana, may want to consider doubling up on ministers in this ministry by naming a Junior Minister of Doubles.

Really, the things some of these new Cabinet ministers say and do, or what they do not say or do, have caused me to lose faith in the youth of the nation. Just so Minister Taylor knows I'm not singling him out on the doubles issue, let it be known I'm sorely disappointed in the young people who entered politics during the last general elections. I was among those who applauded the three main parties for giving young people a chance to agitate and to serve.
In 1970, I was barely 24 when I led a mutiny in the army. I was not only passionate about my Regiment and my country, but I was prepared to put my life on line for what I believed in. I paid a high price for my youthful exuberance, but I never complained. Since those heady days of Black Power, when the main players, military and civilian, were all under 30, I have felt strongly about giving youth a chance. But who among those sitting in Parliament can claim to have championed deserving causes? Which one has exuded the passion of youth in confronting their geriatric misleaders when the latter mess on their wilting tails?
That they remain mortified by these old geezers who insist on imposing their will on their parties, and by extension on the populace, is a sad indictment against today's young people. They need to have the courage of conviction to confront them, not suck up to them, especially when you know they are committing sins against the nation, against their people. But enough pontification: I think I am preaching to the deaf-and dumb.
You would think, though, that once an MP or a senator has taken up a ministerial portfolio, he or she would work overtime on mastering all aspects of his responsibilities. In Taylor's case, as the minister in charge of consumer affairs, he would look at all aspects of what people consume. Sticking with foods, that basic requirement for human existence, Taylor would have been helpless as prices of staples and non-staples shot through the roof. With some sobriety returning to the global markets, he has the opportunity to steer consumers in the right direction.
Had Taylor done his homework, he would have learned that what is important is not so much food security as nutrition security. In other words, you can satisfy people's daily 2,000-calories requirements with junk foods and achieve nothing-except a mass of unhealthy young people who would inevitably impose a very costly strain on our already burdened health system. I know it's not easy to wean young people away from junk like chicken and chips, pizza, soft drinks and doubles.
At least the Consumer Affairs ministry should be counselling people, educating them about the consequences of bad eating and drinking habits. When I occasionally dabbled in doubles, I was amazed at the queues I would encounter at dusty roadside stalls, the kinds of people who licked their hands as the "sap" from the filling that contained little channa and much sauce. The "barra" that is the main component of doubles is today made of white flour mixed with a touch of saffron powder. Gone are the days when real dhal and mucho channa made this a somewhat nutritional meal.
Those who insist on eating doubles are eating crap-quite literally, at times. Ditto for pavement-pies, pastries and so much of what pass for snacks or meals nowadays. I'm not suggesting one should not give in to the occasional craving for these delicacies. But to consider them genuine meals is to court multiple health problems, as we are witnessing today. Check on the large numbers of relatively young people contracting diabetes, heart conditions and now obesity.
Instead of calling on vendors of these "foods" to lower their prices, Minister Taylor should ask them to double-up. Cabinet should impose a substantial health-tax on junk foods to cater for having to hospitalise and treat those who willingly eat into life-threatening diseases. I know thousands out there, those who swear by doubles and chicken and chips, would want to kill me for making these suggestions. I am not easily intimidated.
Government has failed in instituting a good-nutrition programme that should start at the primary schools level. Children should be taught that legumes, local root crops and tubers, vegetables and fruits are infinitely better for them than junk foods. It's not too late to start, using the Schools Nutrition Programme as a platform for promoting healthy eating habits. If we succeed by only 50 per cent, think of the long-term savings in future health costs.