By Shereen Ali Sunday,
April 7 2013 – newsday.co.tt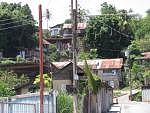 A part-time lecturer in the Department of Behavioural Sciences at the University of the West Indies, St Augustine is calling for the authorities to test children living in East Port-of-Spain for lead poisoning.
Lecturer Valentine Smith's call is based on his contention that there may be environmental and biological factors among the causes for violence and youth delinquency in this area.

Smith notes that East Port-of-Spain has a large young population — almost half were below the age of 30 according to a CSO 2000 report — and says that if children in the early 1990s were cumulatively poisoned by lead, it could be a contributing factor to their present condition and behaviour.
Smith, a former Registered Nurse, a former Public Health Inspector who retired in 2008, and a current part-time lecturer with an MSc and MPhil in the Sociology of Health, points out that "lead levels continue to be positive in the water courses in Trinidad" and decades of exposure of East Port-of-Spain residents to lead in toxic traffic fumes as well as lead in airborne pollutants blown on them from burnings at the Beetham Dump.
Smith points to contributing factors to the possibility of lead poisoning among East Port of Spain residents as being a drastic increase in cars on the roads into Port-of-Spain and the associated traffic jams. He said the Beetham dump has been a threat to the area's surface and ground water, to the wetlands on which it sits and to the health of surrounding communities for more than 30 years, with regular burnings of largely unrecycled rubbish, despite formal statements that hazardous waste should not be dumped there.
Trinidad has no comprehensive national recycling system in place, he added.
"For decades this (pollution in the area) has been going on," said Smith, "… and it may have been affecting our youth.
"Can it help explain how angry we have become as a people? Could it be a factor in why they are killing each other? No matter what the government of the day is, many of the young people here are behaving in a similar way. Why? We need to encourage scientific evaluation of the possibilities," he said.
Smith referred to several studies in arriving at his thesis, including one by Banks, Ferretti and Shucar (1997) called "Effects of low-level lead exposure on cognitive function in children – a review of behavioural, neuropsychological and biological evidence." This study, published in the journal "Neurotoxicology," Vol 18, said lead promotes brain dysfunction, and also alters neurotransmitter and hormonal systems; it may induce aggressive and violent behaviour.
Trinidad does have a history of lead poisoning. Ivan Chang Yen, a UWI Chemistry lecturer, in 2001, did a study on used lead acid batteries. He found evidence of major pollution in several areas of Trinidad due to the repair and recycling of lead acid batteries. He found, in 2001, that "of the 160,000-170,000 batteries discarded in Trinidad and Tobago, most are collected by the informal sector, and returned to a single recycling company in east Trinidad for export to Venezuela." The batteries are collected by scavengers at the landfill sites, that is Beetham. Chang Yen recommended back then that an inexpensive test kit for lead sould be made available, especially in areas with young children.