By Raffique Shah
March 30, 2013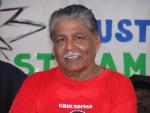 IF THERE was anything surprising about the Prime Minister's frontal assault on the media and journalists, it was the expression of hurt and outrage emanating from the nation's newsrooms. Really, people, I cannot believe you were shocked when the PM labelled us "rogues".
If anything, Kamla Persad-Bissessar's declaration of war took a long time in coming—almost three years. Fellow scribes, be thankful for the lengthy grace period, be grateful that the lady wined and dined you lavishly before she turned on you.

It was bound to happen. Every politician who has tasted power, and many who counted for little, has gone to war with the media. If they didn't, that would signal that journalists were not doing their jobs, that they were too busy prostrating to power to do their duty to country. For journalists, that duty, besides accurately reporting the news, is to probe important issues that affect the society and voice or write their findings without fear or favour. The columnist comments on issues in like manner, albeit from his own perspective.
As someone who has been on different sides of the divide—mutineer, rebel, unionist, politician, reporter, editor, columnist—I feel eminently qualified and sufficiently experienced to advise my colleagues, in particular younger journalists, on how to respond to such attacks. Ignore them. Oh, I know it's difficult to do that, especially when you are targeted by name, and when you know you did nothing wrong. I felt that way once upon a time: I returned fire with stinging verbal fusillades that left my attackers cowering.
As I matured, though, I realised it was better to ignore them, to leave them to wallow in their ignorance, to bask in power that they never believe is transient. In any event, I reasoned, if I have my say as a commentator, others must have the right to disagree with me, to tear me to shreds if they so wish. It is why I never respond to reader-comments on my column.
It could be unnerving when one is targeted by a minister, or worse, by a prime minister. Young reporters need to know that this Prime Minister is not the first to have trained her guns on the media, and they are not the first targets. Persad-Bissessar is merely following in the footsteps of all her predecessors.
Even before he came to power in 1956, Dr Eric Williams engaged the powerful Trinidad Guardian in a bitter war that saw him burn copies of the newspaper in Woodford Square to the delight of throngs of supporters. The Guardian had taken a position against Williams, who was gaining popularity and would soon form the PNM, branding him a communist.
Ironically, ten years later, the Guardian stoutly defended Williams when he faced strong opposition from leftist trade unionists and Black Power advocates. By 1970, Williams had declared war against the newly-launched Express, accusing it of harbouring radicals and fomenting revolution. Writers like Owen Baptiste, Earl Lovelace and Wally Look Lai upset "de doctah".
On February 18, 1975, I became the first victim of government censorship of the State-owned media houses when my voice and image were banned from Radio 610 and Trinidad and Tobago Television. Within days, Jimmy Bain, acting on orders from Williams, extended the ban to include George Weekes and Basdeo Panday. Journalists at these media houses who protested this infringement of freedom of the press felt the mailed fist of the PNM Government. Raoul Pantin, Jerome Rampersad and Eric's brother Tony Williams were summarily fired.
Waging war against a robust media is almost a pastime for politicians in power. George Chambers, who succeeded Williams in 1981, was one of the simplest prime ministers this country has known. Yet, on the eve of the 1986 destruction of the PNM, under stress, he vented his anger on the press. A television crew had gone to cover a PNM meeting in Arima. Chambers, no doubt sensing the turn of the tide, launched a tirade against the media and the crew. Supporters turned on the journalists who had to flee for their lives.
Ray Robinson embraced the media during the heady days of the NAR landslide victory in 1986. I think he was the first PM to host a reception at the official residence for editors and senior reporters, which I attended. Shortly afterwards, the split between Robinson and Panday occurred and the media wrote extensively on it. I had personal experience (as an editor) of Robbie "turning beast" during that fallout.
The trend would continue with Panday and Patrick Manning. In Panday's case, he once telephoned a Guardian reporter to castigate him over a story he had written that the PM found offensive. Years later, Manning would "drop in" at a radio station to register his displeasure with some report. Panday's viciousness towards journalists he deemed hostile to the UNC took some nasty turns, with his supporters turning on reporters, similar to what had occurred under Chambers. Both Manning and Panday attacked the media at mass meetings.
Besides targeting editors and reporters, governments have waged war against media houses using the power of state-advertising dollars. Advertising revenue is critical to the success of all arms of the media, and Government and State enterprises are among the biggest advertisers. I can say with authority that every government, at some point, has withheld advertising from media houses that they deemed hostile to their parties. By extension, they shower dollars on newspapers or stations they see as friendly.
So Kamla branding reporters and commentators "rogues", and her ministers joining in the bullying, should not surprise or anger journalists. It's par for the political course. Her ranting would intensify as the prospect of power slipping from her hands grows. The worst is yet to come.