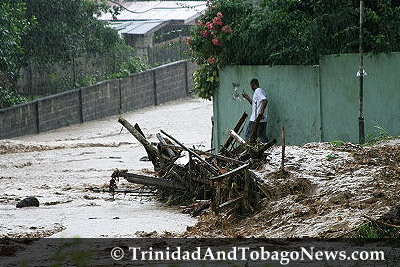 Floods take toll on T&T
Still reeling from the effects of Monday's heavy rains and flooding, Port-of-Spain suffered another major blow yesterday as several disasters, natural and otherwise, shut down vehicular and pedestrian movement in and around the capital city.

Distress
Thousands stranded as massive floods, landslides cripple East-West Corridor
City Gate shuts down
Port-of-Spain came to a standstill yesterday as thousands of commuters were stranded while making their way into and out of the capital city because of muddy waters that flooded major streets.
Commuters gridlocked
Incessant rains over the past few days, coupled with yesterday's inclement weather resulted in flooding, landslides and left students marooned at a primary school in Bourg Mulatresse.
Bridge collapses
It was stress for motorists heading west and east along the Churchill Roosevelt Highway yesterday as the collapse of the B 1/12 bridge at Macoya caused them to be caught in hours of traffic yesterday morning. The situation had worsened by afternoon as heavy showers caused flooding in several parts of the east-west corridor.
Floods maroon Marabella residents
Sleeping four-year-old killed in mudslide