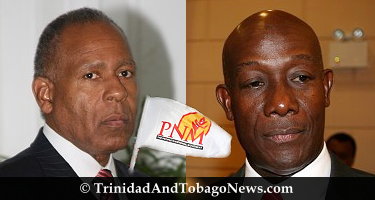 Sunday, November 16 2008
Newsday Editorial
Faced with the choice to apologise to his erstwhile colleague Diego Martin West MP Keith Rowley, or to brazen out his allegation that Dr Rowley is responsible for missing monies in the Cleaver Heights housing project, Prime Minister Patrick Manning has chosen the latter course.

In the Parliament on Friday, Mr Manning extended his allegations, claiming that not only was more than $10 million missing, as he first said on September 30, but that other persons, were part and parcel of a plan to essentially defraud the people of Trinidad and Tobago. Mr Manning made much of correspondence between NH International and the Housing Development Corporation (HDC) which specified that the offered contract price would not be upped through variations made at any future date by the contractor. Yet later correspondence showed that there were additional costs caused by such variations as the project got underway – though Mr Manning did not say who requested the changes.
And this correspondence raises its own issues. In the first place, why was Dr Rowley not provided with these letters? When Mr Manning made his initial allegation – which, on Friday, he insisted was not an allegation but a mere query – Dr Rowley had called for all the documents pertaining to the Cleaver Woods project to be made public or handed over to him, so that the Prime Minister's allegation – which is how every reasonable person interpreted Mr Manning's "query" – could either be substantiated or Dr Rowley's name cleared. This Mr Manning, Housing Minister Emily Dick-Forde, and the Permanent Secretary did not do. Dr Rowley was thus forced to use the Freedom of Information Act – passed, in a nice political irony, by the UNC administration – in order to get the documents to clear his name. This does not reflect well on the professionalism of the public servants who insisted that the MP go to all this trouble. But it is hardly surprising, given the example set by their political masters.
In the second place, Dr Rowley made available to the media all the documents he was citing. Mr Manning has not done so, either on September 30 or last Friday. It may be, of course, that Dr Rowley was himself selective in what he gave the media, but Mr Manning has given no one an opportunity to judge the merits of both sides by backing up his own allegations with documented evidence. And, clearly, the only way to resolve this impasse is to make all the relevant documents public, so that independent construction experts can take a look at them and say if anything untoward took place.
This, after all, is what will happen when the matter comes before the Commission of Inquiry into the construction industry. But this raises another jeps nest. Mr Manning announced on Friday that he has instructed the Attorney General to send the Cleaver Heights project to the Commission. But, as we pointed out when this controversy first started, the CoI would inevitably have to make this project a priority, given the furore. But by implying that he is telling the CoI what to investigate, Mr Manning has now raised questions about the independence of that Commission – and we expect that its chairman, British professor John Uff, will have something to say about that.
So this whole matter is a mess, and really a distraction from the far more serious and life-threatening issues plaguing the nation. We hope it will be resolved sooner rather than later.
http://www.newsday.co.tt/editorial/0,89973.html
Related News:
Elias Seeks Speaker's Help
PM's $20m Cleaver Heights query…
Prime Minister Patrick Manning has gone from a "phantom" $10 million to questioning the $20 million variation which resulted from an increase in the scope of work at Cleaver Heights project, NH International boss Emile Elias, the contractor involved in the project, said yesterday.
Ramesh: PM should have sent matter to DPP
Instead of referring the controversial Cleaver Heights Housing Project in Arima with its missing $10 million to the Commission of Inquiry into the construction industry, Prime Minister Patrick Manning should have instead forwarded the matter to either the Director of Public Prosecutions (DPP), the Commissioner of Police (CoP), or the Special Anti- Crime Unit of TT (SAUTT).
Decision on Rowley motion delayed
In contempt of Parliament
Now that MP Keith Rowley has indicated that he intends to ask the Speaker to send the matter of the Prime Minister's claim–that there was a missing $10 million in the Cleaver Heights Project–to the Privileges Committee of Parliament, many may wonder what this entails.