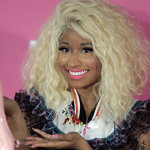 Commenting after Zoanette Johnson's rendition of "Circle of Life", Nicki Minaj said:
"I'm proud that this place right here gives people like you and me, that came from absolutely nothing, from a country that we didn't probably think we'd make it out alive, it gives us a shot. Thank you, Thank you. …"
Listen to Nicki Minaj after 5:17 on the video
http://www.youtube.com/watch?&v=SxoW_oXs2jw

Twenty year old Zoanette Johnson is a Liberian refugee living in the US. She came from war-torn Liberia where hundreds of thousands died and many more became refugees.
About Nicki Minaj, Wikipedia states:
"Onika Tanya Maraj was born December 8, 1982 or 1984 in Saint James, a suburb of Trinidad and Tobago's capital city Port of Spain to parents Carol and Robert Maraj, an accounting clerk/gospel singer and an employee at American Express, respectively. She has two siblings; her parents are of mixed Indian and Afro-Trinidadian ancestry and she lived in Saint James with her grandmother. Her mother would occasionally visit, and one day, when Minaj was five, her mother picked her up to move to the Queens borough of New York City. According to Minaj, her father drank heavily, took drugs, and once tried to kill her mother by setting the house on fire."
http://en.wikipedia.org/wiki/Nicki_Minaj
What do you think?