Thursday, November 6 2008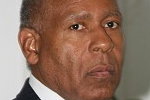 OPPOSITION Leader Basdeo Panday on Tuesday criticised Prime Minister Patrick Manning for visiting Radio 94.1 FM two Saturdays ago to protest their earlier broadcast, critical of Government policy.
In a statement, the UNC leader yesterday called Manning "absolutely out of line, and overboard" in his actions.

Panday said: "Such behaviour by a Prime Minister is undemocratic, arrogant and dictatorial at best since it tramples on the freedom of the media to perform its functions relating to scrutinising Government's conduct and policies without fear".
The Couva North MP said Manning's behaviour was unwarranted in the circumstances, and could only serve to intimidate the media from performing their role and duty of demanding accountability, which is especially crucial in light of the Government evasiveness in accounting for the $250 billion it spent in the last seven years.
Panday said proper avenues exist to complain about the media such as writing to the media house's management, the Media Complaints Council, or the Telecommunications Authority, if a breach of licence had occurred.
Further he said, the PM could have telephoned the radio-show or issued a media statement to dispute the broadcasters' remarks.
"But speeding into Port-of-Spain from San Fernando to personally storm into a media house is beyond what is reasonable, or acceptable. If this kind of behaviour is tolerated from the Prime Minister it will signal to other persons such as Ministers that they too are free to assault the media whenever anyone criticises the Government, and soon the media will be muzzled".
http://www.newsday.co.tt/politics/0,89353.html
Related News
Manning mad at media
PM: I'll go to the courts if aggrieved
Prime Minister Patrick Manning says he has had it with the media.
It was not my idea
PM on suspension of 94.1 FM employees…
SAYING he did "absolutely nothing wrong" when he visited the 94.1 FM radio station on Abercromby Street in Port of Spain to complain about comments made during one of its newscasts on October 25, Prime Minister Patrick Manning yesterday said he had nothing to do with the decision of its managers to suspend two of its employees.
Manning: I am going to the courts next time