By Shaliza Hassanali
November 11, 2012 – guardian.co.tt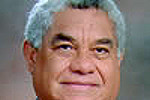 After building a billion-dollar insurance empire with tentacles throughout the region, former CL Financial chairman Lawrence Duprey claims he is now flat broke. "I am no billionaire. That is a lie. I don't have a damn cent," said Duprey during a telephone interview on Wednesday at his Florida, USA, home.

After the collapse in 2009 of CL Financial—which Government recently spent $20 billion to bail out—Duprey, 79, the man at the centre of the controversy, is now focusing on philanthropy, and seeks to enhance the wellbeing of the less fortunate in countries around the world.
The philanthropy, which takes Duprey to Uganda and the Far East, involves meeting well-placed individuals and planning leadership training to help the less fortunate. The programme is supported by some of the richest businessmen in the world including Bill Gates, chairman of Microsoft, Duprey said.
When CL Financial went belly up, the globetrotting entrepreneur turned his energy to quietly working with several humanitarian groups from around the world to alleviate poverty, a job which he insists began in Trinidad before the crumbling of the mega-insurance firm he managed.
Providing proper housing, jobs, roads, water, skills training, electricity and a smooth transport system, Duprey said, is vital in increasing productivity and improving one's standard of living. Duprey stayed clear of the Commission of Inquiry into CL Financial and Hindu Credit Union, except to question what good the money being spent by the Government on legal fees would do.
"What value is it going to bring?" he asked, saying that only time will clear the untruths being spread about him. In the last three years, Duprey said, "Reporters would call me to say I thief this and that." Stating that people could say what they wanted, Duprey maintained that he has worked hard and continues to labour to improve the quality of life for citizens who can't help themselves.
"Look how much value I have built! Look at how many rapes I have stopped! Look at how much incest we have stopped and provided training to young guys who have been able to come aboard and get a better education." The media in T&T never saw fit to write about this, he added.
Duprey believes a very negative characteristic of people in T&T is that "We always look for something bad and find the wrong things to say."
'T&T faced with poor management'
Duprey argued that the media were not doing enough to highlight threats made to the lives of business people, many of whom have fled T&T owing to soaring crime levels. Despite being a wealthy country, Duprey said, T&T has been faced with one problem—poor management.
Asked if he planned to return to Trinidad for business or to live, Duprey replied: "Right now I want to go out in the Far East…then I go to Uganda." Duprey said he will return to Trinidad but that decision has not been made or considered as yet.
If Government approaches him to manage CL Financial, will he accept?
"I cannot answer that, it depends on what is involved. I have to make a judgment call. "You could imagine me coming down there and how they would react?" Just back from a poverty-eradication programme in Taiwan, Duprey said he has assisted several countries, among them Vietnam, in the Far East.
http://www.guardian.co.tt/news/2012-11-11/duprey-says-he%E2%80%99s-flat-broke