By Dr. Kwame Nantambu
August 21, 2012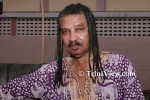 As Trinidad and Tobago celebrates 50 years of political independence, it is a sine qua non to deal with specific, poignant issues/questions in order to ascertain whether this independence is real or imagined.

The first issue that comes to the fore concerns national independence heroes. In other words, contrary to Euro-centric conventional wisdom, Captain Arthur Andrew Cipriani is not this nation's main and/or primary national hero.
From an Afri-centric perspective, Trinidad and Tobago's first national hero is Hierryma. He was a Kalinago/Kalina (Carib), a chieftain/cacique who established villages throughout north-east Trinidad. His national claim to heroic fame is that he masterminded the destruction/burning down of Trinidad's old capital, St. Joseph, on 14 October 1637. More specifically, Hierryma sought to totally destroy Euro-Spanish colonialism in Trinidad.
On the other hand, Cipriani's national independence claim to fame is that he sought to destroy Euro-British colonialism in Trinidad on 19 June 1937— three hundred years after Hierryma.
Ergo, from an Afri-centric point of view, real independence would suggest that Hierryma's statue should be standing on Independence Square, Port-of-Spain instead of Cipriani's.
The second issue that emerges is the overt truism that the colonized in Trinidad and Tobago kicked out the Euro-British governor on 31 August 1962 but have replaced him with a Euro-American colonel from California, United States of America.
More specifically, on the nation's 50th anniversary of independence, one finds that a massive Euro-American fast food marquee towers over and above one of this nation's revered national heroes. And this putative insult to the country's independence is on Independence Square, not Beetham Gardens, Laventille or Nelson Street.
The logical Afri-centric question then becomes: Can anyone imagine a massive Trinidad Hosein's Roti Shop marquee towering over and above George Washington, the "Founding Father of the United States" on Constitution Avenue in northwest Washington, D.C.? Never happen, period.
And the sole raison d'etre is that the colonized in the United States of America achieved their independence from the same Euro-British colonizer on 4 July 1776 through armed revolution. As such, they automatically sought to destroy all the relics/symbols/legacies of Euro-British colonialism.
Conversely, the colonized in the Caribbean, including Trinidad and Tobago, achieved their independence in 1962 through negotiation. Ergo, they automatically have sought and continue to perpetuate the Euro-British colonial relics/ symbols/legacies as exemplified in the Privy Council and Westminster system of government in 2012.
From an Afri-centric perspective, therefore, the colonized in Trinidad and Tobago have only changed European colonizers' hand, that is, Euro- British colonization in 1962 to Euro-American re-colonization in 2012.
Is that an indication of a country's real independence?
And this current Euro-American re-colonization is overtly manifested in this country's culinary habits via the plethora of American fast food outlets at almost every corner in the nation's capital city, including Independence Square, Ariapita Avenue in Woodbrook and Western Main road in St. James, just to give a few examples.
Are these indicators of a people's real independence?
Furthermore, from an Afri-centric perspective, one must hasten to deduce that the colonized in Trinidad and Tobago have basically replaced the Red, White and Blue Euro-British Union Jack with the Red, White and Blue Euro-American Stars and Stripes.
Is this "flag independence" or what?
Truth Be Told : Why do these relics/symbols/legacies of Euro-British colonialism still exist in the Republic of Trinidad and Tobago after 50 years of putative political independence: Chacon Street/Abercromby Street?; Queen's Park Savannah/Queen's Hall/ Queen's Park Hotel/ Queen's Park Oval?; Adam Smith Square/ Woodford Square/Victoria Square/ King George V Park and worst of all, Columbus Square?—Oh please!
Are these indicators of a people's real independence?
In the final analysis, social commentator as in calypsonian Singing Sandra hit the nail squarely and directly on the head when she aptly opined in the lyrics of her 2012 presentation that the colonized in Trinidad and Tobago are "still living in dey mammy house."
Happy 50th independence anniversary birthday Trinidad and Tobago.
Shem Hotep ("I go in peace").
Dr. Kwame Nantambu is a part-time lecturer at Cipriani College of Labour and Co-operative Studies.