By Raffique Shah
July 21, 2012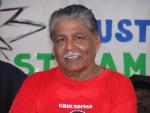 FORTY years ago on July 27 I was released from prison a free man. I had spent 27 months in prison, faced a court-martial on mutiny and other charges, and had been committed to stand trial for treason. The treason charge was without substance.
But on the equally serious offence of mutiny, for which the court-martial had found me guilty and sentenced me to 20 years imprisonment, the Court of Appeal later decided there was a miscarriage of justice, hence it overturned the conviction.

I am dredging up this murky period in the nation's history not to rub salt in anybody's wound or to blow my mutineer-trumpet. I am doing it to show how less than honourable men could play smart with foolishness, how they could use court decisions as badges of exoneration when they merely and barely escaped punishment.
You see, I never denied that I had committed mutiny. How could I, when I had brazenly led my men in revolt against a high command that I believed was inept? I could try to justify my actions. But I could never deny the offence. Indeed, very early during the six-month trial, this 24-year-old lieutenant shocked the court (Commonwealth military officers), the prosecution (led by Bruce Procope and Teddy Guerra) and the nation by taking the witness stand and saying, "Yes, I overthrew the high command!"
Most people thought I had gone mad. That was tantamount to a murder accused pleading guilty. But I had an obscure legal ace up my sleeve: my commanding officer had condoned my actions. To cut a very long story short, having floored everyone with a perfectly legal plea that few knew existed, I took responsibility for all the men I had led in revolt, and asked the court to free us (in accordance with the law).
Of course Colonel Danjuma and company did no such thing. They threw out the condonation pleas (Rex Lassalle, Maurice Noray, Ferguson Guy and Carl Lai Leung had also pleaded condonation), proceeded with the trial, and jailed our backsides for long stretches. But our lawyers (Desmond Allum, Allan Alexander, Frank Solomon and solicitor Lennox Pierre) thought that the court had not been fair in hearing the pleas, not adhered to proper procedures. About six months later, three of the country's most eminent judges, Clement Phillips, Aubrey Fraser and Telford Georges, agreed with the defence.
In a judgement that further shocked the government and nation, the Court of Appeal unanimously quashed Rex and my convictions, although they disallowed the other appeals. In his judgement, Fraser J made the following incisive point: "It is perhaps the acme of irony that the two men who boldly and brazenly proclaimed themselves to be leaders of the mutiny…should escape punishment for their actions. But the law must take its proper course…"
The government would appeal this ruling to the Privy Council, but it was dismissed. It was in those circumstances my fellow mutineers and I were released from prison, free men. But did the highest courts exonerate us on the charge of mutiny? I submit that they didn't. Thus, my colleagues and I have always remained mutineers, defiant as young men, but more responsible as we matured.
After members of that 1970 high command passed on, I have had good relations with most of the officers who were my colleagues at the time, including commanding officers and chiefs of defence staff. Indeed, many very senior officers who enlisted well after the events have shown me respect. I have been consulted by prime ministers and I served on State boards and government-appointed committees.
But I am ever mindful that I remain a mutineer, whatever the courts have ruled. In contrast, consider this. Last week, the Court of Arbitration for Sport ruled in favour of expelled FIFA vice president Mohamed Bin Hammam, not because the CAS believed he did not attempt to bribe CONCACAF football officials, but because the judges felt FIFA had not advanced sufficient evidence against him.
Immediately, Jack Warner, who has been named in several allegations of impropriety, who resigned from FIFA rather than seek to clear his name, called a media conference and claimed exoneration—presumably by association. That his name and some startling numbers would surface the following day in a leaked PricewaterhouseCoopers audit of the Asian Football Confederation, meant nothing to this man. That his prized Centre of Excellence and the man after whom it was named (Joao Havelange) are mired in muck means nothing to him. That week after week, AP, AFP, Business Week, the Financial Times and other reputable media services and houses use his name in unflattering terms, means nothing to him.
Exoneration by association—that is what he crows over.
What may be worse, is that those who matter in Cabinet, the Prime Minister, the leaders of parties that comprise the People's Partnership, seemingly support this charade. They refer to relics like O'Halloran and Prevatt; they threaten Calder Hart. Yet they sit comfortably with Warner. One day, one day…
The other person who has taken shelter behind a legal fig leaf is Basdeo Panday. Recently, a magistrate discontinued proceedings against him not for lack of evidence, but because of a procedural irregularity. Based on this narrow escape, Panday claimed innocence, persecution, exoneration and sainthood all wrapped up in that ruling. Where, O Jah, are the men and women of honour in this country? Christ, we are fifty, but we have all the characteristics of deviant adolescents. Lord, put a hand.