By Dr. Selwyn R. Cudjoe
July 11, 2012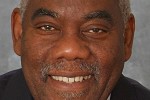 I have been in London for the past few days and will be here for several weeks. I am not here for the Olympics even though one can't help getting caught up in the hype. I have taken a B&B within walking distance of the National Archives and will camp out here to get some work done on the biography of an important Trini.

Over the weekend one could not but sympathize with the Brits and their benumbing heartache after their hope for a Wimbledon title came to disappointing end. The Independent reflected on this national epic on Monday: "Andy Murray couldn't deliver to the nation the opening passage of the golden summer of British sport but he did do pretty much the next best thing."
"He did perform with much competitive honor and more than passing brilliance against Roger Federer—by common consent, the greatest player in the history of tennis."
"It was never enough to match the feat of Fred Parry, who was the last male British player to win Wimbledon 76 years ago."
It was almost as though the entire country was doing everything to snatch victory out of defeat; honor out of what sounded as a Naipaulian horror script. Redemption of British tennis hope has to wait another year which is what Murray said after his defeat: "I played my best tennis in a Grand Slam final…When you lose it's hard, it's tough to take, but you need to try to show strength of character to come back from it."
And he will be back.
Such a defeat will not prevent Britain from drawing deep into its historical archive to and display Britain's most important cultural figure all over the country during the next month or so. The Financial Times reported this weekend: "Never before have so many different theatrical traditions, gathered together to honor the greatest of all playwrights." In case you missed it, they are talking about William Shakespeare on whom we have all been brought up.
No one in London this month or next is likely to overlook references/posters/advertisement to Shakespeare and his work. The Globe to Globe season at Shakespeare' Globe put on Shakespeare's 37 plays in 37 languages. The World Shakespeare Festival features foreign companies doing Shakespeare's plays and the British Museum's Shakespeare exhibit will open this month and there will be performances of Shakespeare's plays all over the city.
One suspects that this plethora of Shakespearism (if I may be permitted to invent such a term) has a lot to do with shoring up Britain's fracturing image in the twenty first century. Even Scotland is thinking of leaving the Union and Cameron's prime ministerial skills leave much to be admired. It goes without saying that this austerity-hit and scandal-laden nation (think Barclays) will do everything to prop up its image. Shakespeare's legendary fame and putative presence remind Britain of its glories and a suggestion of better days to come.
The glorification of Shakespeare offers a good respite from (or perhaps adds to) athletes who have become role models (remember the ubiquitous presence of Shaq on our landscape) and our national flag bearers, ala Dwight Yorke and Brian Lara and their roles in lifting up our spirits when we needed symbols to tell us that we are somebodies when others are constantly pulling us down and questioning our self-worth.
While we are it, let us remember that there others who add to our richness as a society and a sense of nationness. In 2009 Jean-Claude Trichet, the former president of the European Central Bank and former governor of France's Central Bank spoke on what Europe's cultural Identity meant to him. "European-ness means being unable to understand fully my national literature and poetry—Chateaubriand, Mallarme, Julien Gracqu, Saint-John Perse, Senghor—without understanding Dante, Cervantes, Shakespeare, Goethe and Heine."
"European-ness means that I share with all other Europeans the same basic cultural sources, despite the fact that they come from vastly differing backgrounds. This means that I live in a modern literary atmosphere that is influenced directly and indirectly by the Czech Kafka, the Irishman Joyce and the Frenchman Proust."
This brings me to our Central Bank governor, Ewart Williams, my friend and brother. He will cuss me for this, such is his modesty, but he is one of the most sophisticated, down-to-earth brothers I have ever met. He loves sports. He has television subscriptions to tennis, basket-ball, American football, soccer, cricket and every other sport imaginable. He is the only person I know who can have his television on, watch a game and yet write the most sophisticated article and/or report on economics or banking.
We know him as an economist who rose from UWI to a Vice President at IMF before becoming our Governor at the Central Bank. He is a linguist. He speaks English, French and Spanish and is versed in obscene which he uses rather well. And he loves his steelband which he played in his younger days. He dotes on his kaiso which he knows well. He seldom takes himself too seriously and enjoys a good laugh.
Ewart Williams is the embodiment of Trinidadianness and Tobagonianness (Trinbagonianness) in the analogous sense in which Jean Claude Trinchet sketches his Europeanness. Williams possesses the Trinbagonian's seriousness, perspicacity and playfulness. He likes a good joke. He is a humane, culturally sensitive and appreciates what has made us who we are. He has lived it. His early life was no bed of roses.
And he loves his family. As he says, in the words of the calpysonian, "it's not my ting, is we ting." He would sacrifice it for nothing.
Without much fanfare, he brought a stuffy, distant Central Bank to its people and made it a part of us. He only insisted that its directors and its workers imbue our work with passion and give unflinchingly to one of the most sacred institutions in our society. In so doing, he taught us what it means to be patriotic and to love the nation that shaped us in the most profound of ways.