By Dr. Selwyn R. Cudjoe
June 19, 2012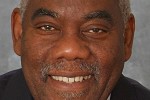 There was a time I would be hurt whenever V. S. Naipaul called us mimic men and a false society. I used go after him mercilessly saying how wrong he was and why we were a young society, trying to get things together. When, at the end of From Columbus to Castro, Dr. Williams endorsed Naipaul's view of our world, I was crushed. I felt betrayed.

Events over the past week have made me come around to accepting the validity of their description of my world. I watch the HCU hearings and the irresponsible nature of what took place and I cringe. On June 16 Newsday's headline announced: "Harry, family buy $17M properties: Miami Real Nice." They go on to explain that Harry Harnarine's properties include real estate at Coral Springs, Deerfield Beach, Pembroke Pines, Miramar and Margate in Miami.
I think of Lawrence Duprey as the government bail out depositors of his company and wonder where could he be and why he isn't brought to justice. I flash back to September 2011 when we learned that CLICO, in trying to become a global company, severely drained Angostura. CL Financial, says the report, was "$3.3 billion in debt to CLICO and it was company practice to keep risking deals off Angostura books by arranging inter-group funding to mask ventures" (Newsday, September 21, 2011).
Then there is Calder Hart who headed off to Florida two years ago. I can only assume he must be having a good time there at the taxpayers' expense. Then I read the Trinidad Guardian only to be told that "Hart cannot be located" (June 17). The Guardian reminds us that in his report "Prof Uff called for a police probe into the former chairman and full-scale investigation into the awarding of an 885 million contract by Udecott to Malaysian-based CH Development, now Sunway Construction (Caribbean) Ltd."
On the same day that one is reading the sordid details about the HCU, Newsday runs a photograph of R. Allen Stanford accompanied by an announcement that he was sentenced to 110 years in prison, for bilking investors out of more than $7 billion dollars over two decades, the assumption being that more than likely he would die in prison. Before he was sentenced, he tried to convince the judge that he "will always be at peace with the way I conducted myself in business." The judge was not swayed.
Bernard Madoff must be mad. He is wondering why Stanford got 110 years when a judge had the temerity to give him 150 years in jail. In sentencing Madoff, Judge Denny Chin condemned his crimes as "extraordinary evil" and imposed a sentence that was "three times as long as the federal probation office suggested and more than 10 times as long as the defense lawyers had requested" (New York Times, June 29, 2009). He, too, will die in jail. He had brought too much suffering upon too many persons.
Last week Rajat K. Gupta, the retired head of the consulting firm McKinsey & Company and a Goldman Sachs board member was found guilty of conspiracy and security fraud and leaking board room secrets to his billionaire friend, Raj Rajaratnam. It was not so much that he needed the money. He is worth over $130 million dollars. But he was greedy. He wanted to play with the rich and famous. Preet Bharara, the United States attorney in Manhattan, who prosecuted the case said of Gupta: "Having fallen from respected insider to convicted insider trader, Mr. Gupta has now exchanged the lofty boardroom for the prospect of a lowly jail cell" (New York Times, June 15, 2012). He faces jail time of 25 years but would probably serve less than this.
Gupta was not a lowly criminal who was ready to fleece those he encountered. He was of distinguished member of the financial community in the United States. He received a MBA from Harvard Business School; served on distinguished boards; and was even invited to the White House when the Indian prime minister visited the United States. From a lowly orphan in India, he scaled the heights of US financial world but then he succumbed to greed.
In Trini we do things differently. Crimes are committed; hearings that cost taxpayers millions of dollars go on and on; and then nothing comes out of them. Remember the Piarco International Airport scandal and the charges that were made against Ishwar Galbaransingh and Steve Ferguson in 2002. The US requested their extradition to stand trial for crimes that were alleged to have been committed there. In December of last year Justice Ronnie Boodoosingh ruled that the proper forum for these two men to face trial was in Trinidad and Tobago rather than the USA. It has been ten years since these gentlemen have been charged.
In serious societies when men or women commit crimes they are charged; tried; set free or sent to prison. In some cases, when convicted, they spend the rest of their lives in jail.
In Trinidad and Tobago; we hold hearings; file constitutional motions; send civil proceedings documents to places where people used to live and then nothing happens and like Charles Dickens the populace are forced to conclude the "law is an ass—a idiot." Poor people go to jail while the rich and monied laugh at the law.
I don't know where Hart or Duprey lives or when Harnarine, Galbaransingh and Ferguson will appear in a court of law to answer the charges against them. Although a person is presumed to be innocent until proven guilty, in serious societies every attempt is made to have them answer the charges that are leveled against them. In a fake society, we talk and talk and say nothing; we pretend to be real, but at the base we are a hollow people. We give the appearance of wholesomeness but only emptiness reigns. Justice and fairness take a holiday while honest people are fleeced.
When, I ask, will the guilty be brought to justice?