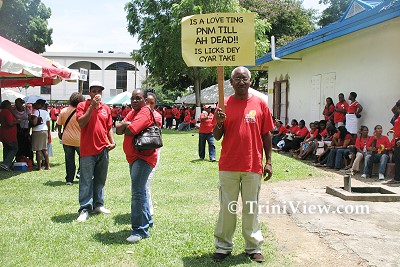 PNM supporters in Woodford Square in support of Patrick Manning
PM: Tell dem leave me
By Rhondor Dowlat
PRIME Minister Patrick Manning yesterday made his defence against an Opposition motion of no-confidence not to the Parliament but to Woodford Square, Port-of-Spain where thousands of PNM supporters gathered to stand with him.

Manning was supported by members of his Cabinet and senior PNM officials as they made their way to the square's bandstand during the 4.30 pm tea break in Parliament. Escorted by a rhythm section, Manning, his wife, Minister of Local Government, Hazel Manning, Health Minister and PNM Public Relations Officer Jerry Narace and other members of the Cabinet made their way through the western gate to the bandstand which was converted into a main stage.
Full Article : newsday.co.tt
No-Confidence Square-Off
PM: If the leader falls, all fall down
By Asha Javeed
Referring to the Opposition in a fighting mood in Woodford Square in Port-of-Spain yesterday afternoon, Prime Minister Patrick Manning told hundreds of his supporters, "Tell them leave me alone."
He was referring to the Opposition UNC and its chief whip Ramesh Lawrence Maharaj, who had brought forward a motion of no-confidence against him.
Manning was out to defend himself but the jury gathered to hear his case, his party supporters, had all confidence in him.
Full Article : guardian.co.tt
Ramesh: PM unfit leader
By Sean Douglas
OPPOSITION Chief Whip Ramesh Maharaj said Prime Minister Patrick Manning's poor response to alleged corruption at Udecott showed he was unfit to be Prime Minister.
This was one of Maharaj's chief weapons in a motion of no confidence in Manning which he moved in the House of Representatives. Udecott is now subject of a commission of inquiry into the construction sector due to report next September.
Full Article : newsday.co.tt
CEPEP workers: We were forced to attend rally
By Julien Neaves
WORKERS of the Community Environmental Protection and Enhancement Programme (CEPEP) and the Unemployment Relief Programme (URP) complained yesterday that they were forced to attend an unofficial People's National Movement gathering in Woodford Square, Port of Spain, under threat of loss of pay or employment.
CEPEP and URP workers were among the thousands who turned up yesterday to support Prime Minister Patrick Manning, as the Opposition planned to file a motion of no confidence in the Prime Minister in Parliament at the Red House, opposite the square.
A female URP worker from the Toco/Manzanilla district said they were told if they did not attend the gathering yesterday they would get no more work.
"That is crap," she added.
Full Article : trinidadexpress.com
SEPTEMBER 14, 2008
IMBERT US$6m MAN
Ramesh charges Works Minister failed to declare assets…
Opposition Chief Whip Ramesh Lawrence Maharaj, on Friday night, named Works and Transport Minister Colm Imbert as the man who allegedly failed to disclose a US$6 million account to the Integrity Commission.
No-confidence motion flops, Manning triumphs
No-confidence circus a disappointing show
As it turned out, the examination of Prime Minister Patrick Manning's stewardship since 2001 never did take place in the debate much-ballyhooed as an occasion to hold him up, together with his administration, to critical scrutiny.
Waste of taxpayers' money
The much-anticipated debate on the motion of no-confidence in the Prime Minister sputtered to a premature end last Friday night.
Ramesh: We didn't back down
UNC-A chief whip Ramesh Lawrence Maharaj confirmed yesterday that he had talks with the Government midway during Friday's no-confidence motion debate, since, he said, PNM speakers were not replying to the motion and were wasting time…