By Dr. Selwyn R. Cudjoe
December 20, 2011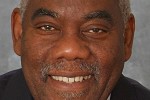 There were smiles galore; enough to fill the entire room and a little left over for langniappe. There, boldface in the front page of the Mirror (and the Guardian too) was Kamla Persad-Bissessar, the Prime Minister of the country, in the tender embrace (or so it seemed to me) of Maxie Cuffie, the publisher and CEO of the Mirror. Another shot showed Wade Mark, the Speaker of the House of Representatives, clasping Cuffie's hands with a broad smile on his face with Timothy Hamel-Smith, President of the Senate, equally gleeful, overseeing the tete-a-tete.

Viewing these photographs, it looked as though it was a major breakthrough in public diplomacy; a feat of realpolitik and diplomacy of which Otto von Bismarck, President of Prussia (1862-1890), would have been proud. The Mirror was so ecstatic that it proclaimed in its headline, "Christmas Truce," and reported bravely: "The Prime Minister Kamla Persad Bissessar signaled an end to the Government's undeclared 'cold war' with the T&T Mirror with an embrace of T&T Mirror publisher Maxie Cuffie at a cocktail reception for the Parliamentary media corps at Tower D on Wednesday evening."
The story went on to speak of the nice things they (the PM and the CEO) said to one another. She informed him that it was important for the Mirror to "to keep the Government on its toes" while Dr. Roodilal Moonilal pontificated about the importance of the Fourth Estate "in protecting the democracy." Mooniolal also acknowledged that "it would not be in the country's interest to have the media and the executive agreeing on everything."
Reading about the lovie-dovie between the UNC-led government and the CEO of a newspaper that was trying to find its feet and speak truth to power (the PM admits that she is a regular reader of the Mirror) reminded me of another Christmas Truce that took place on Christmas Day 1914 during World 1 when, for one day (some say a week), the war stopped and the British and German soldiers along the trench lines set aside their weapons, greeted one another, gossiped and exchanged cigarettes.
In some places, they also played football. They met again the next day. Then, after a strong rebuke from their bosses at headquarters, fighting started again and the savagery of war continued. In the churches at home (and in the parliaments), prayers and splendid words of "peace and goodwill" were offered for victory and for the slaughter of men who had interrupted their hostilities to exchange greetings, and to reaffirm their humanity.
J. C. Squire, an English poet, on hearing of this magnificent display of humanity, wrote the following lines: "God heard the embattled nations sing and shout:/"God save England"-"God save the King"-/ "God this"-"God that"- and God the other thing."/"My God!" said God, "I've got my work cut out."
Such a story leads me to ask: After all of the fine words of the PM and her colleague, "What Now?" In other words, do they really mean what they say or are they only out to mamaguy Cuffie with lofty notions of freedom and the importance of press freedom.
I suspect that our CEO had to be civil and do everything in his power to convey to the government that while he and his paper take issue with the government he bears them no ill-will, in spite of PM's damning question: "Why do you hate me so?" It demonstrates the personal manner in which she and her party understand politics which is why Bismarck may have been smiling when he saw the PM in Cuffie's embrace. As a royalist and reactionary, Bismarck believed that the monarch had a divine right to rule and to dispense favors as she or he sees fit.
It is this divine right to rule and to dispense favors that the PM and her party use to rule the society and to shaft this young, Black man who presumes to speak truth to power. How else can one interpret the government's official boycott of his newspaper? How else can one interpret the vengeful way in which they have treated his newspaper ever since he came on the scene as a publisher and CEO of a hard-hitting weekly?
In July 2011, Cufie wrote to Dr. Surujrattan Rambachan, Minister of Foreign Affairs, reminding him of our Government's international obligation inherent in the Declaration of Chapultepec in which it promised solemnly to adhere to the injunction that "No news medium nor journalist may be punished for publishing the truth or criticizing or denouncing the government" and that no government may cease to grant or withdraw "government advertisement… to reward or punish the media or individual journalist."
So that after all of the hoopla; after all of the smiling faces; after all of the warm embraces, the question the Prime Minister should be asked to respond to is this: how does she feel about her Foreign Minister's terse response to Cuffie's letter of July 28 in which he acknowledged receipt of Cuffie's letter and added: "Please be informed that the contents of your letter have been duly noted." Moreover, after six months, what have the prime Minister and her Cabinet done to fulfill our obligations that we have promised to fulfill under a duly-signed international treaty?
In his letter, Cuffie also reminded the Foreign Minister that he was informed reliably that Cabinet had taken a decision "to stop all advertisement in the publications of MGLP," a decision that was communicated to certain permanent secretaries and CEO of state-owned enterprises.
Madame PM, "Is this true?"
After the German-British Christmas truce in 1914, God said to himself, "I've got my work cut out [for me]."
The PM also has her work cut out. For Christmas 2011, it would be an honorable gesture if the PM and her Cabinet stopped shafting a young, ambitious Black man who not only possesses a BSc from UWI and a legitimate MPA from Harvard University as well.
Is it too much to ask the government to stop its savagery against the T&T Mirror?