13 DETAINED
By Nalinee Seelal
November 26, 2011 – newsday.co.tt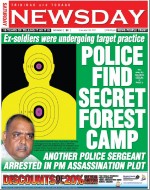 Police and soldiers have discovered a secret training camp in East Trinidad believed to have been used by ex-soldiers, rogue police officers and members of an organised group in preparation to carry out a plot to assassinate Prime Minister Kamla Persad-Bissessar, Attorney General Anand Ramlogan and Housing Minister Dr Roodal Moonilal.
As of yesterday, 13 persons, the latest a police sergeant, have been arrested in connection with the threat to the Prime Minister and national security.

Newsday understands that Superintendent John Daniel, head of the North Eastern Division, has been appointed to probe the assassination plot under the supervision of Assistant Commissioner of Police (Crime) Harold Philip.
Sources yesterday said a quantity of spent shells, as well as paper targets were found at the secret training camp which was discovered earlier this week in a forest near Cumuto.
No explosives were found at the camp, but law enforcement officers believe that persons involved in the assassination plot were nearing the end of their training.
Officers used metal detectors to determine if any weapons were buried in the nearby vicinity or in the camp itself, but nothing was found. The camp was photographed.
Two ex-soldiers and an ex-Coast Guardsman, who were all dishonourably discharged from the Defence Force, were among the 13 persons detained in connection with the plot.
The group include two police sergeants, one with 25 years service who was arrested on Wednesday. The second sergeant was arrested by a team of joint law enforcement officers in North Trinidad yesterday. This second sergeant was taken to the Criminal Intelligence Unit (CIU) in Port-of-Spain and was being questioned.
Three businessmen from central Trinidad, Princes Town and Valsayn were among the group of alleged plotters.
Sources told Newsday that investigators were experiencing difficulties in securing information from the detained persons who are being kept at various police divisions and are being interviewed separately by the joint law enforcement team which include officers of Special Branch, the CIU, and intelligence officers of the National Security Operations Centre (NSOC).
The Central businessman has been detained under an authorisation order which allows the police to keep him in custody for more than seven days. He is being held at the Belmont Police Station after being arrested on Monday.
The others were detained between Tuesday and yesterday, and other authorisation orders signed by Deputy Commissioner of Police, Mervyn Richardson were said to have been made out against them.
According to Emergency Powers Regulations of 2011, once an authorisation order has been signed, a detained person can be kept in custody for a further seven days pending inquiries. However, action must be taken by then, that means the detained persons must be charged or a detention order be taken out against them, otherwise the detained individuals should be released.
Yesterday, a senior Defence Force officer source told Newsday the 13 persons had intimate details of the assassination plot which had been planned to take place after the Cabinet meeting this past Thursday.
However, investigators have not found any explosives, firearms, ammunition, documents or materials that may be linked to the suspects.
The plot was discovered two weeks ago by the Special Branch.
Investigators are working on information that some soldiers, police officers, trade union members, and even persons aligned to a political party are involved in the assassination plot. They are hoping to have the suspects weeded out before Sunday.
Leave for police officers have been restricted until 6 am on Monday, while all Defence Force officers, Coast Guardsmen and others have been placed on high alert.
Yesterday, Chief of Defence Staff Brigadier Kenrick Maharaj told Newsday that maritime security has been strengthened in addition to the high alert across the country.
At all police stations, sentries have been placed both in front and at the back of buildings to ensure that the stations are properly manned and guarded at all times, while transmitter stations are being guarded by heavily armed soldiers.
Yesterday, sources revealed that security arrangements for the Prime Minister and her Cabinet colleagues have been beefed up with Special Branch officers paying close attention to the homes of the ministers.
Police sources have also said that a security blanket will be placed over venues where Government ministers are scheduled to attend functions and public gatherings.
Yesterday, a Coast Guard vessel was anchored at the Port-of-Spain waterfront adjacent to Tower D, where Parliament is now being housed. The House of Representatives sat yesterday.
On Thursday, the Prime Minister confirmed knowledge of the assassination plot and linked it to her Government's success in ridding the country of illegal drugs, arms and ammunition.
http://www.newsday.co.tt/news/0,151247.html