By Clarence Toussaint
August 11, 2008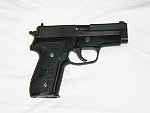 This letter in response to Minister Martin Joseph's call for harsher gun laws in Trinidad and Tobago.
What do stronger gun ownership laws have to do with criminals trafficking in and using illegally owned firearms? These laws will only affect the law-abiding citizens who've applied for firearms permits through the Commissioner of Police (CoP), sometimes having to wait years or decades for the permits process to worm its way through only to be denied (or have already been robbed, murdered, raped or kidnapped!!!)

The criminals don't take this route; that's why they're criminals!!!! The net result of stronger legislation are: (i) That lawfully abiding citizens will have less means to defend themselves, their homes, families, businesses and property. (ii) Criminals will become emboldened, as the government will effectively disarm citizens by reducing the number of permits allowed (these citizens only want to stem the wave of crime as it directly affects their lives). (iii) Previously law-abiding citizens (hoping to defend themselves from murderers, rapists, kidnappers and robbers) will seek out illegal firearms dealers for weapons as a means of breaching the gap left by the extremely long permit process and the stronger legislation that leaves them feeling defenseless and unarmed; defenseless against a wave of senseless murders, kidnappings and home invasion robberies that has swept the country that the Police seem either inept or unwilling to combat. Mr. Minister, newer legislation is not needed; there are enough laws on the books.
What is needed is the practical application of an enforcement of the existing laws. These are the lessons learned from watching gun laws in England that have not stemmed the wave of crime in that country. Neither has the constant pumping out of new gun laws in the U.S. that have done nothing but put increasingly harsher restrictions on lawful citizens as criminals get their firearms illegally instead of lining up for a permit. This fools no one into believing you're making him or her safer.
Trinidad and Tobago doesn't need stronger gun laws!! It needs a well-armed and responsive police force that is willing to combat crime. It needs citizens who are trained in the lawful application and use of firearms as a means of self-defense. It needs citizens who are willing to combat crime in their neighborhoods by policing themselves and eliminating the criminal elements in their midst instead of seeking to benefit from their ill-gotten gains with that "gimme-some nah man" slavery handout mentality that pervades our country.
Trinbagonians need to point them out and kick them out of our neighborhoods. Nowhere in this country must be safe for them to hide!!!! When they need a quick "hit" before their next robbery, it will be your front door they'll kick down!! Your car they'll steal or your family they'll kidnap, your home or business they'll rob!!! Your son or daughter, they'll rape or bugger in front of your eyes!! Then when you don't have as much money or jewelry as they thought you had, it will be your life they'll snuff with the squeeze of a trigger, as easily as they breathe. They know if they grew up with, went to school with you, came to your wedding or childs christening, then turned around and robbed you, you'll be the first to turn them in or come back at them!! So your reward for harboring them will be two in the chest and a bullet in the head. Congratulations, you've earned it!!
Criminals are cowards preying on the unarmed, weak and unsuspecting. Now if you have trained and armed citizens who put two shots into the chest of the first bastard breaking down their door or coming through the window, then your neighbor puts one or two into the accomplice, then another neighbor pumps some into the getaway driver, what you effectively have is a responsible and responsive citizenry who put the criminals on the defensive instead of the offensive. Plus criminals who'll think two or three times before coming into that neighborhood again!!
Enough is enough Mr. Minister, stop disarming the citizens as you and your family walk around with police special branch escorts. Everybody doesn't have that luxury of parliamentary privilege. It is time to enact a program of responsible gun ownership in Trinidad and Tobago. Promote the lawful and responsible application of firearms use to protect life, limb and property. Enforce the laws that already exist instead of confusing the citizens and police with more laws.
It's time to allow the citizens to have a responsible and effective means of self-defense because if the citizens don't believe they have a role in defending the republic then it will fall into chaos along the lines of Guyana, Haiti, Somalia, Bosnia, Jamaica, Columbia and Sudan where people are forced to live in little enclaves and tribal areas, subject to the whims of local warlords. They are citizens of Trinidad and Tobago Mr. Minister, not its slaves. It's time to allow them to protect themselves and defend the republic or bear the responsibility of the chaos that follows.