By Michael Harris
September 11, 2011 – trinidadexpress.com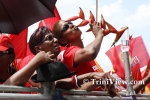 My column last Monday [PNM's children] seems to have ignited something of a furore among readers. On talk shows, in the blogs, and in letters to the editor, there was a surprisingly huge outpouring of feedback as everyone appeared to have something to say about my article.

It was surprising, in the first place, because newspaper columnists and what we write are seldom the recipients of such massive attention. We write our articles week in and week out and, with the exception of the comments from a few inveterate bloggers, we hardly even know if anyone out there is reading what we write. At least that has been my experience.
The outpouring of feedback was surprising to me for another reason. While there were a few persons who were positive and complimentary (for which I say thank you), anyone following the responses would have realised that not only were most of the comments negative and downright vitriolic, but that they came overwhelmingly from people who regarded themselves as PNM supporters.
It is not surprising that PNM supporters did not like what I had written. That is their right. What surprised me was that, this time, they thought it necessary to publicly vent their anger. The views I expressed in the column last week were not new. I have held them for a long time and I have expressed them in this column many times before.
Writing in this column in August of 2008 I had this to say;
"…it is evident that the black community in Trinidad is trapped in a terrible dilemma. With each day that passes we find ourselves less free and more dependent than at any time since slavery.

We look around at what we perceive to be the economic and cultural progress being made by other ethnic groups in the country, particularly the numerically strong Indian community, and feel that we are being left behind. More than that, we question our own capacity to compete, to stand on our own and prosper.

The vast majority of us believe that we have no choice but to suck at the teats of the state if we are to survive. And so we feel compelled to prop up and support the very institution which we know to be the cause of our paralytic dependence; the PNM…"
What I wrote last week was merely a restatement, in a different context, of that point of view. So the question arises, why did last week's article trigger such an outpouring of antagonism, resentment and bile from the PNM supporters? Why did they not continue to pretend to simply ignore me?
One possible answer may be that many of them may have been as shocked as I was at what we heard on the "Granny Quila" video. And to be told that this young lady was the product and consequence of their party and its politics over the decades must have hurt them to the quick.
But I think the answer is more complex than that. What I believe the public outpouring of antagonism towards the article betrayed was the deep-rooted sense of anxiety, of fear, and of genuine angst, which today exists amongst the vast majority of black PNM supporters.
When I wrote the words which I quoted earlier the PNM was safely entrenched in office having, not too many months before, won another election. My words then could be safely ignored, whatever the misgivings they may have prompted, because the PNM was in charge of the State and the gravy train would continue to run.
Three years later their world has turned upside down with a vengeance. Their party has been unceremoniously dumped from office. They stepped out with Patrick one step too far and plunged over the precipice of his arrogance. And they are well aware that today they are allowed to suck at the teats of the state on sufferance only; that at any moment they may lose their place at the feeding trough or be asked to pledge allegiance to the 'enemy' if they wished to keep on sucking.
But there is more to it than that. The fact is that as they look at their party in the context of the country as it is today, it is difficult for them to conjure up any hope of a quick resurgence or any resurgence at all. Even the most obdurate of them would have to acknowledge that the PNM, as it is today, is a decrepit and dilapidated shell of a party, bankrupt of ideas, bankrupt of vision, bankrupt of moral authority and bankrupt of leadership.
So they live today in a state of existential terror for they know not what to do. For so long have they been content to live lives of utter dependency that their muscles of independent thought and action may well have atrophied. Their condition is somewhat analogous to that of prisoners who, having been incarcerated for extended periods of time, are released into the world and have no clue as to how to survive.
But the answer to their dilemma is the same as it was one hundred and seventy-three years ago. For what circumstances now require of them for survival is that they stand on their own two feet; that, in the immortal words of Bob Marley, they "emancipate themselves from mental slavery". Or, if you prefer the biblical quotation, that "they take up their beds and walk." This is what our forefathers did and this is what they are now required to do.
This second emancipation is not going to be easy. There is no help to come from any abolitionists or from any free-traders. The only help to be had is from the brothers and sisters who have never succumbed to the poisonous draught of PNM ideology: have never given up on the vision of T&T as a nation united, independent, and free; who understand that such a nation can only be built if every class, creed and race find an equal place; and, above all, that citizenship in such a nation, means accepting the responsibility to be our brother's keeper.
But the first step away from the plantation of dependency that is, and has been the PNM, must be their own. "None but themselves can free up their minds".
* Mr Harris has been for many years a writer and commentator on politics and society in Trinidad and the wider Caribbean. He is a long-standing member of the Tapia House Group
http://www.trinidadexpress.com/commentaries/Needed__A_second_Emancipation-129628558.html