T&T Express Editorial
Monday, July 28th 2008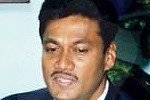 FAR from being seen as the saviour in the mess that is now the collapse of the Hindu Credit Union, the Government action last week must rightly be classified as having come too little too late.
Ordinary citizens by the thousands must now suffer the distress of having to watch their millions of hard earned money jump up and away in Harry Harnarine's cavalier, irresponsible steelband.

They have been clamouring for years now, many of them, to recover their investments in this financial organisation which has been going off the rails for too long, and for which corrective action seemed the furthest thing from the minds of the authorities until it was way past time.
Full Article : trinidadexpress.com
Related Articles:
Worried employees form group July 29, 2008
Employees of the Hindu Credit Union (HCU) have formed themselves into a group to protect their interest following the granting of full control of the credit union to the Government.
HCU workers turn guns on PM, Finance Minister July 29, 2008
Angry employees of the Hindu Credit Union (HCU) are branding Prime Minister Patrick Manning and Finance Minister Karen Nunez-Tesheira as "neemakharams of the highest order."
Mayor boots HCU out of car park July 29, 2008
Chaguanas Borough Corporation is about to evict the HCU from a car park it rents next to its administrative complex on Chaguanas main road…
Harnarine: My hands are clean July 29, 2008
Hindu Credit Union president Harry Harnarine said yesterday that the properties which he owns abroad were bought with money he made as a financial consultant as well as his former jobs in other financial companies, like the Colonial Life Insurance Company.
We want our $25m July 28, 2008
Depositors to sue HCU for fraud
HCU officials borrowed millions July 28, 2008
HIGH-PLACED officials of the Hindu Credit Union (HCU) borrowed millions from the credit union which were not repaid. An official, who held only $30 in shares was lent $500,000. Another official got a loan for $1.6 million at one percent interest, but the interest was calculated at only 0.5 percent. Another member bought only $25 in shares and on the same day was able to borrow $100,000. And a Costa Rican who was not a member and had no shares got a loan for half a million which was not paid back.
Sat: Freeze Harry's assets July 27, 2008
The Government should put an immediate freeze on Harry Harnarine's assets. Secretary general of the Sanatan Dharma Maha Sabha Sat Maharaj feels this should be done while the HCU is being liquidated by chartered accountant R D Rampersad and Company…
Montano: Why did Govt take so long? July 27, 2008
Why did Commissioner of Co-operative Development Charles Mitchell and Finance Minister Karen Nunez-Tesheira take so long to act against the Hindu Credit Union…
Minister: Govt not sure of giving HCU $$ July 26, 2008
Though the Government has now taken over the Hindu Credit Union, Minister of Finance Karen Nunez-Teshiera has said her Ministry can give no assurances as to whether or not they will be giving the credit union extra money, if its needs more funds to pay back its depositors.
'…They should have stuck with traditional guidelines' July 26, 2008
Inspection team: HCU violated loans policy July 26, 2008
A June 2007 report by an inspection team probing the Hindu Credit Union found evidence that the credit union violated most of its written policies, failed to adhere to the legislation which governed it and replaced its core business–the granting of loans–with the acquisition of properties…
Finance Minister to HCU head: Wait for court July 26 2008
FINANCE Minister Karen Nunez-Tesheira said since the Hindu Credit Union moved from a liquidity concern to one of insolvency, there was no way Government could have responded any sooner on the situation.
Harnarine: HCU beyond recovery July 25, 2008
It's the end of the road for the Hindu Credit Union (HCU), according to its president Harry Harnarine…
All HCU business taken out of Harnarine's hands July 25, 2008
HCU's history of troubles July 25, 2008
Sat: Family has foreign property
…action nothing to do with race July 25, 2008
Secretary General of the Sanatan Dharma Maha Sabha Sat Maharaj has written to Ernst and Young, Commissioner of Cooperatives Charles Mitchell, as well as provisional liquidators R Rampersad and Company, identifying international assets of the Hindu Credit Union (HCU).
HCU owes $25m in interest July 25, 2008
Finance Minister offered advice July 25, 2008
Credit union wanted $1b liability limit July 25, 2008
Last laugh for Enill? July 25, 2008
Court freezes HCU assets July 24, 2008
JUSTICE Nolan Bereaux yesterday granted injunctions to freeze all assets of the Hindu Credit Union (HCU) in and out of Trinidad and Tobago and granted an application by Commissioner of Coop-eratives Clarence Mitchell to appoint R Ramersad and Company as provisional liquidators for the HCU.
Court grants Govt full control of HCU July 24, 2008
The High Court has given the Government full control of the Hindu Credit Union Co-Operative Society Limited (HCU)…
HCU frozen: No need to fear, says Harnarine July 24, 2008
Government officials yesterday confirmed that the Hindu Credit Union has been served with an injunction and all the assets which the financial group owns have been frozen.
Flashback:
Panday, Ramesh, meet Harnarine to discuss crime January 29, 2006
We must win this war July 25, 2004
March illegal–cops July 24, 2004
Hindu Credit Union boss arrested at protest march in Trinidad July 13, 2004