By Raffique Shah
October 17, 2023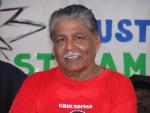 A few days ago, I awoke from an afternoon nap to the sound of Indian music literally filling the house. I was somewhat disoriented transitioning from sleep to wake but also, because of the volume at which the music was being played. We hardly ever turn the volume up lest we disturb our neighbours. As I walked to the living room where our small music player is housed, I saw my wife sitting, tapping away her fingers to the rhythm of the music, and my daughter going about her normal schedule for the day. All doors and windows in the house were shut tight so nobody could complain about noise coming from our house.

That Indian music ran for about an hour and who was not tapping was humming. We interjected here and there to comment on a particular piece of music, the voice of an artiste or the high quality of the performance. Now, many people would know that I am a keen calypso fan who not only enjoy kaiso at carnival time, but I especially find time to play my music when the radio stations are selecting songs from their junk yards. For them, calypso has a season. For me, calypso is our music and I feel free to play and listen to it any time of the year. What many don't know is that I also love Indian music, not because of my heritage, but more because of my love for good music.
I can wake up on a Christmas morning and extract my finest Bob Marley or Jimmy Cliff CDs, turn up the volume and have a whale of a time.
Because of my heritage, in my early life I was exposed to Indian music, that I grew to love. I would Learn the lyrics without knowing their English translation and melodies but the sheer sweetness of the various instruments being played skillfully by artistes who have some of the finest voices anywhere in the world, send me into a nostalgic trance. I loved Lata Mangeshkar's huge collection of songs- possibly the biggest for any artiste, anywhere In the world. But on any given day, I will play Geeta Dutt's, 'Ae Dil mujhe bata de' over Lata's anything. Between the cultured voices of Indian singers, the vast majority of them trained at institutions ranging from temples to formal artistic schools, and the wizardry of musicians like Shankar Jaikishan and Ravi Shankar, it's no wonder Zee TV's, Sa Re Ga Ma Pa, never runs out of talented youths. Mind you, many of those who perform on that show, have had no prior training- just raw talent. And, trust Dj Me to switch, in the middle of playing Indian songs to the haunting saxophone of Trinidadian, Errol Ince, playing the sweetest rendition of 'Oh Mine Papa'. In that mode, I can easily jump from Ince to David Rudder, absorbing the Ganges meets the Nile Or Bahia girl, to the sultry sounds of Carlos Santana's, Black Magic Woman.
I mean, really, music is a universal language capable of expressing every human emotion, even when there are no words. Music syncs with the soul, and the words of many songs live in our memories for eternity, even with dementia induced cognitive decline. More and more, scientists are turning to music to treat especially mental disorders. My daughter tells me, now they have sign language translators at major concert events worldwide. Even the deaf enjoy music.
In my family, my wife, Rosina, would switch from Mohammed Rafi to Sparrow in concert or Andre Tanker, Mungal Patasar, Simon and Garfunkle, just to name a few. The global music industry is huge and now, more and more, a mainstream contributor to GDP and other positive indicators in countries across the world. We are blessed with very creative singers and musicians for a country our size. We are also cursed to belong to a hemisphere in which lyrics are used for very negative motivation. Some of our artistes take pleasure in churning out the most profane songs, songs with- not so subliminal messages- that promote violence, total disrespect and other negatives we can do without. While such trash may sell and earn them money and fame, because they are what they are, they will not take us on to the global rankings. They may add pennies to the pockets of the interest groups that promote such tripe but they would hardly put fifty thousand people in Hyde Park or any other open style concert venue.
I wish the leaders of society, starting with parents in the homes, and adults who DJ on radio stations, will stamp their disapproval in dollars and 'sense' that they will spend only on the most progressive artiste. That way we can all – artiste and fans- contribute to the treasury and possibly make superstars.