By Raffique Shah
January 02, 2023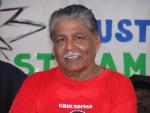 By a strange coincidence, last Tuesday, the fourth day of a very long Christmas weekend, I set up my music system around two in the afternoon, inserted a USB "stick" on which I have, over many years, collected hundreds of tracks from CDs I had bought or recorded music that was freely available for download from several sites on the Internet, and prepared for a treat I had not enjoyed for quite some time.

I had many choices. Paul Simon had been honoured at a gala the previous night somewhere in the US, part of which I had looked at and listened to live: when you talk Simon, even minus Garfunkel, you are talking class music.
Then I scanned through some Andre Tanker gems that I have dubbed truly indigenous music. I was tempted by Mungal Patasar's Pantar that I usually blend with Panazz.
Clicked on The Beatles' 1. My wife muttered: play calypso, which came across more like an order than a request. So I duly "clicked" on "calypso classics", a collection of around 60 of the best songs of that genre that I have put together over many years, and which we never tire of listening to. It started with Blakie's "Steelband Clash" recorded live at Mas Camp Pub, I believe, with David Rudder and Winston "Gypsy" Peters lending vocals; and the King of Smut Zandolie sending the raucous, mainly female, audience into scandalous uproar with songs such as "Iron Man", "Jockey" and "Bois King".
There were classics by Sparrow, Melody, Cristo, Spoiler, Maestro, Shorty—in both his saintly and "rude boy" incarnations—Brynner, Chalkdust, Rose, Stalin and more, much more.
As someone who is not schooled in music, but who loves good or great music in any language, I define a "classic" as a work one would listen to over and over again, and never tire of hearing. Among love songs, for example, there is the Righteous Brothers' rendition of "Unchained Melody" ("Oh my love, my darling, I hunger for your touch…").
Its first notes have any music lover humming the haunting melody. By the time the song takes flight, you end up belting out the lyrics so loudly that your neighbours are likely to summon the police. Ditto for Sparrow's "Mae Mae" or "Congo Man", and scores of other calypsoes.
I remember thinking as the music played on, and surfeiting, my appetite refused to be sickened, far less die, to misappropriate Bill Shakespeare: this country is over-endowed with cultural talent.
If only the jackasses who run around terrorising the populace with guns and other death-dealing instruments would sing—and I refuse to classify the crap they indulge in as music—they might discover that the sound of music is far more pleasurable than anything else known to man.
Anyway, mid-morning the next day, my friend Mike called me: "Raf, the Black Man gone." We both paused as I digested the news. He didn't have to say which Black Man, it could only be Leroy Calliste, one of the best calypsonians this country has produced.
After exchanging some comments on Stalin's stature in a country that has a surfeit of good calypsonians and even better calypsoes, Stalin stood like a giant who for many years composed songs with "Lyrics to make politicians cringe", as Rudder sang and melodies that defied the coarseness of his voice. His melodies were so sweet, his rhythm so infectious that you couldn't sit still while he sang.
I met him only once in all the years I attended the tents in which he performed or other appearances he made. In 2011, we found ourselves in the airport in St Maarten, waiting for our home-bound flight. He had just wrapped up a performance in Tortola and my family had spent a week vacationing on the Dutch/French island. Although that was our first and only meeting, we embraced each other as if we were brothers. My wife and daughter were excited to meet "The Black Man" whose lyrics and music they had enjoyed ever since they knew what calypso was. My daughter would later say he was the humblest of celebrities she had met through me. We exchanged contact numbers and promised to stay in touch. I respected Stalin for the fortitude he showed in standing up for black people even as the victims were themselves falling apart.
At a time when Sniper's melodious "Portrait of Trinidad" had been elevated to national-hymn status, he respectfully challenged its authenticity with a new portrait he sang in 1974. And he never gave up in uniting the Caribbean, as evidenced by one of his best songs, "Caribbean Man".
We'd never meet again, Stalin and I. Parkinson's grounded me within a year and later he would fall to a stroke. It is for others to pursue those dreams we left as… well, dreams. You'll meet some frauds trying to bribe their way Upstairs, Big Bro… Bun Dem!