By Dr Selwyn R. Cudjoe
October 03, 2022
"To be ignorant of what occurred before you were born is to always remain a child. For what is the worth of human life, unless it is woven into the life of our ancestors by the records of history."
—Marcus Tullius Cicero
PART I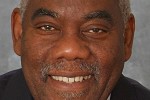 I want to congratulate Ulric "Buggy" Haynes, a recipient of a Hummingbird Medal. Not only is Buggy deserving of this award, but it's the kind of story we need to tell our children about the heights great men have reached and kept. His is part of a larger story of community that the Ministry of Sport and Community Development (S&CD) should keep in mind.

Buggy lived opposite me on Bailey Trace, Tacarigua, all of his life. His grandparents, Joseph and Miriam Waterman, lived on the adjoining street that is named after them. Joseph and Miriam emigrated from Barbados, settled in Tacarigua, and there raised their six children: Boyse, Bebe, Constance, Maude, Carmen and Violet. Constance was Buggy's mother.
Joseph was the embodiment of hard work and sacrifice, a word that is in play today because of the utterances of the minister of S&CD.
Apart from his cultivation of ground provisions such as sweet potatoes, cassava, eddoes and dasheens, Joseph also rented large plots of land from the Orange Grove Sugar Estates which he planted with sugar cane that he sold to the estate each year.
Buggy's elder brothers, Clyde, Carlton and Kelvin, assisted their grandfather in cultivating this crop. Clyde taught me at Tacarigua EC School, and Kelvin and I played football for various houses in the school. Miriam, Buggy's grandmother (we called her Gagga), walked around the village, with a tray on her head, selling eggs and ground provisions. Joseph kept his provisions in a locked shed at the side of his house; he also sold them to villagers.
Buggy was a standout in any sport he played: cricket, football or table tennis. I taught Buggy at Tacarigua EC. He was not particularly academically brilliant, but he was a determined person, something that manifested itself on the cricket and football fields.
Once I administered some punishment to Buggy at school—I must have used a ruler to do so—but once he got back home, he stoned me for inflicting such barbaric punishment on him.
I remember playing cricket in the 1950s at the side of Buggy's home and in the streets adjacent to his home with Buggy's father (Denzel Haynes), his uncle, "Sonny Frazier", his brothers, and some of the other young men in the village. Buggy was an excellent batsman.
Buggy possessed exceptional football skills, which he honed on the Holy Ground Savannah on the western side of the school. At age 15 or so, Buggy played football for Tacarigua EC Ex-Pupils. This meant he played with footballers older than he. Then he moved on to play in the East St George League in St Joseph and the Arima Football League in the inter-zone competition in 1963 and 1964 respectively.
Thereafter, Buggy's path was cleared (or certainly accelerated) when Eddie Hart, another brilliant son of Tacarigua and former parliamentarian, took him to Port of Spain to play for Malvern Sports Club. Buggy excelled there. He was selected to play for T&T's national football team which he eventually captained. He continued to play for Malvern and the Tacarigua EC Ex-Pupils until 1977.
After Buggy finished his active playing days, he devoted himself to giving back to his community. In 1988, he opened the Ulric Buggy Haynes Coaching School, where he trained boys and girls in cricket and football. Many of his pupils went on to perform for the country at both the junior and senior levels. With the help of his brothers, he also conducted training for young people in track and field.
Even though all of these sporting endeavours played an important part in Buggy's life, his greatest accomplishment came when he led the charge to prevent the former government from taking over the Orange Grove Savannah (at present known as the Eddie Hart Grounds) in Tacarigua. The plan was to build a stadium primarily for the use of "elite" athletes.
Buggy realised the villagers (we call them districkers) would lose a cherished sporting and cultural area that was used by our fathers and foremothers for centuries.
Moreover, as many as 1,500 runners, from as far afield as Arima and St Joseph, used these playgrounds daily. Buggy led the charge to save the largest green space area on the northeastern part of the island from becoming a concrete and asphalt area.
The committee (known thereafter as the "Green Space Committee") had to come up with close to $500,000 to hire lawyers to challenge what they saw as the government violation of the community's well-being.
Bringing together about 30 community organisations, as diverse as St Mary's Anglican Church, the Dinsley Sports Club, and the Lloyd Best Institute of the West Indies, we raised most of the money through cake sales, barbecues, and other such events.
Two notable things emerged from this course of action. Not only did Buggy lead the charge with Carol James and Peter Burke, but he contributed the first $20,000 to hire lawyers to fight our case. Here, a true districker put his money where his mouth was to save an essential part of the community.
Coincidentally, the site from which our minister made her plea for sacrifices is the same spot on which Buggy's grandfather grew his sugar canes with which he sustained his family. This is the spot on which the Tacarigua Community Centre now stands, which we hope will continue to cultivate a sense of community.