By Raffique Shah
April 04, 2022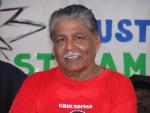 My telephone mysteriously morphed into a Catholic church-type confessional after my column of last Sunday hit the streets, or given the dominance of the Internet in disseminating news, fake and real, likelier after Sunday Express' online version was read by people who make it a point to stay ahead on the information highway.

I was still groggy with sleep, or lack thereof, when the phone rang. I answered with my Covid- cultivated tone, which signalled I expected the unexpected: Yallow! The shaky, one might even say frightened, female at the other end, oozing suspicion, not even making an effort to give me some kind of reassurance that I won't hear the sound of gunfire erupt from my yard. "Mr Shah?" Pause. "Mr Shah, you okay?" "Do you expect me to not be?" I queried. She muttered: "Well, I don't know… you are messing with some mean men… and women. These people have millions of dollars at stake." "What are you talking about, M'aam?" I all but shouted. And my tone was anything but friendly.
Pleading that she was not "the enemy" I was making her out to be, she proceeded to talk "in parables" about the devious characters who had swooped down on "the Caroni lands thing you wrote on today" (Ah! So that was what this call was all about.) "who would do anything, stop at nothing" to hold on to the lands they had grabbed. I should be very careful, she warned, and she would "pray to God" to protect me, etc, etc.
I thanked the caring soul, and might have forgotten about all of this "Caroni-land-grab" affair if I did not hear some chilling stories from others I knew who had worked with the one-time State-owned sugar company, yet others unconnected, but who had learnt of the undisguised banditry. Within days, from the information I gathered, most of it unsolicited, I realised that what we were faced with is a version of organised crime that involves non-professional criminals who are professional in their respective fields, men and women (yes, women) who would think nothing of paying a thousand dollars to eliminate any human obstacle in their way.
I learnt, too, that the cost of a human life in a society like ours, where we have more guns than gunmen, costs no more than $1,000. Often, we read or hear about people who have no connections with criminal activities but who are gunned down and reduced to statistics of crime "under investigation" or just crime committed and forgotten.
In the "great Caroni land-grab", the vast majority of people are trying to lay their hands, somehow legally, on lands awarded to the ex-sugar workers by investing significant sums of money to make huge profits off the one commodity that never decreases in value.
Few ex-sugar workers are involved in land speculation or any kind of business activity. Mostly, they educate their children who become professionals or run small business enterprises and operate within the law. The vultures who have swooped down on the potential billions of dollars to be made off Caroni lands are unscrupulous. They will stop at nothing in their pursuit of wealth. They come from all ethnic groups and can be found just about anywhere locally.
Often they are coached by devious-minded seniors; the lawyers are the worst of the lot. They collaborate to scrutinise the laws governing land transactions and find loopholes that allow for the "lawful" transfer of State lands into private hands where such practice is, in most cases, not legal. Such deviants conduct their banditry quite openly because they know that rare is the case where one or two members of their fraternity are disciplined by their associations or charged by their counterparts in general practice.
In the "Caroni land-grab" out of some 7,000 residential lots, sugar workers who were separated by the company in 2003-2007 own the smallest fraction of the communities that evolved from them. The biggest scam is taking place under our noses as the near ­defunct Caroni distributes two-acre plots that were intended to stimulate diversification of the economy into agriculture. I state boldly, and without verification, that less than five per cent of such lands are under any kind of farming or cultivation.
Bona fide farmers across the country squat on State and private lands to uplift farming and agriculture. Millions of dollars change hands—or accounts—as the very wealthy pay lawyers to bend and twist the laws governing land transfer every-which-way to get hold of the two-acre plots on which billion-dollar businesses will magically sprout.
That is wrong! In any language, that is banditry. Someone, somewhere must have the backbone to stop it.