Emancipation Day Special: Part 2
By Dr. Kwame Nantambu
July 26, 2011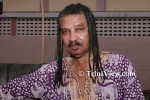 Part 2 of this Emancipation Day Special focuses on the power dynamics between Trinbagonians of Indian descent versus the powerlessness of Trinbagonians of African descent. And this overt ethnic imbalance is real despite the current United Nations-sponsored year-long celebration.

Indian-Trinbagonians account for 43.3% of the national population. And against this backdrop, coterminous with other powerful elements within their grasp, it is no small wonder that in June 2005, there was a vociferous, clarion call for the Indian Tassa drum to be publicly acclaimed as T&T's "second national instrument… if only for the sake of equity and fairness in this multi-social, multi-ethnic society."
This call was juxtaposed against the August 1993 public announcement by then Prime Minister Patrick Manning that promoted the Steelpan as T&T's national instrument.
That was the power call by Indian-Trinbagonian leaders; but this power call didn't stop there.
In April 2007, President George Maxwell Richards showered "high praise" for the establishment of the Indian-Caribbean Museum of T&T. In the President's own words: "You have been able, over the short space of one year, to gather a whole range of artefacts covering themes as wide as arts, culture, engineering, kitchen tools … a whole range. I want to congratulate the committee."
It should be noted that there is an East Indian Museum at Waterloo Road, Carapichaima.
Furthermore, in October 2008, President Richards "urged the National Council of Indian Culture (NCIC) to set up a documentation centre and library to maintain records of those who had contributed to Indian culture."
Moreover, in September 2005, the then Indian High Commissioner to T&T, Jagit Singh Sapra, donated $15m toward the establishment of the Mahatma Gandhi Institute for Cultural Co-operation."
And this potent cultural-ancestral co-operation/linkage is not only reflected in the holding of the annual Indian Expo in T&T but also in local television programs such as "Bollywood Music Therapy", "Deke Bhai Deke", "Inside India", "Legends of Indian Dance", "Indian Variety Show", "Sai Baba Programming", "Chunkay in Central", "Om Namah Shivay", "Mastana Bahar", and "Swaha", just to name a few,
These cultural programs are augmented by "Indian Vegetarian Gourmet" and "Indian cooking with Chef Sanjay".
Of course, it would be the classic incident of "cognitive dissonance" if this writer didn't point out the fact that when Indian artistes perform their songs on these television programs, they all sing in the tongue of their historical/cultural/ancestral Mother Land, India.
Conversely, when Trinbagonian artistes of African descent perform their songs, they all sing in the tongue of their former European colonizer /slave-master, except Ella Andell— power versus powerlessness/location versus dislocation in T&T today, period. All praise and glory to Priestess Ella Andell.
The fact of the matter is that the power of Trinbagonians of Indian descent came to the fore when in February 2005, Indian High Commissioner Virendra Gupta "suggested that knowledge of the Hindi language be expanded in T&T for a greater appreciation of local Indian culture."
In July 2006, the "Kendra Vacation Course in Indian Culture for Children" began in Southern Main Road, Enterprise. The teaching staff included community leaders trained in T&T and India. In this course, students were exposed "to dance, games, singing, script writing, acting, films, dramatic reading, Ramayan studies, handicraft, Indian aesthetics, leadership skills, mediation, Sanskrit chanting and yoga".
In addition, in May 2009, the National Institute of Fashion and Technology (NIFT) in India signed a Memorandum of Understanding (MOU) with UTT and in the words of then UTT's Chairman Professor Kenneth Julien: "Trinidad and Tobago's progress was due in large part to the influence of many countries, including India. Overall, the aim is to develop the fashion industry here so it can represent the richness and diversity of our culture".
And not to be outdone, one finds that not too long down the road that then Foreign Affairs Minister, Paula Gopee-Scoon "pledged to do more to promote the teaching of Hindi throughout the nation's primary schools." The then minister didn't mention the government's intention to promote the teaching of Yoruba and Kswahili throughout the nation's primary schools—- power versus powerlessness in T&T.
However, Indian-Trinbagonian cultural power demand didn't stop there at the level of governance. One finds that at the convening of the Fifth Summit of the Americas in T&T in April 2009, Trinbagonians of Indian descent were visibly and loudly complaining that there was "not enough Indian culture for Summit." Their brief was that "Indian culture continues to be placed on the back-burner of national culture," period.
Indeed, the multi-faceted power of Trinbagonians of Indian descent was taken to the next level when in November 2006, UWI lecturer Dr. Jerome Teelucksingh called "for the inclusion of the Hosay festival and the 30 October 1884 massarce of East Indians in the CXC and CAPE syllabus."
Indeed, the crucial historical, linkage significance of this public statement is that in terms of power dynamics, by purposeful inference, this Indian-Trinibagonian lecturer has totally deleted the massacre of hundreds of millions of Africans from the syllabus. And this begs the logical question: Isn't the brutal massacre of Indians the same as that of Africans?– give me a break.
As a corollary, one finds that in January 2007, the Indian High Commissioner to T&T, Jagit Singh Sapra "called on local Hindus to continue propagating Hindi in T&T"— power versus powerlessness in T&T.
And to add insult to the powerless status of Trinbagonians of African descent, one finds that there is a Chair of Indian Studies at UWI. There is no 'Chair of African Studies' at UWI as of this writing, period. And there never will be in terms of the sad legacy of Euro-colonial power divisiveness between these two ethnic entities.
And not to be outdone, there was a new December 2010 Memorandum of Agreement for UWI to promote "Chinese (Mandarin) language and culture."
This literal Indian cultural tsunami erupted on 24 July, 2011, when the general T&T public was notified by the Indian High Commissioner that "a new syllabus is being devised to teach Hindi in T&T." The announcement further elaborated that "the High Commission of India conducts regular Hindi classes at seven centres all over the country where in excess of 200 students are learning Hindi."
As of this writing, no similar public announcement has been forth-coming, albeit published, by any African Embassy in T&T to also conduct regular classes in Yoruba and/or Swahili at centres all over the country— power versus powerlessness in T&T today.
Conversely, one does need a special pair of HD binoculars to ascertain the paucity of courses in African history and languages offered at UWI today.
In the final analysis, the current public policy-making consensus and societal prevailing wisdom/attitude/mind-set are such that either by accident or design, African history should be posited within the context of Calypso, Steelband and the "Pan in the classroom programme."
Shem Hotep ("I go in Peace").
Dr. Kwame Nantambu is a part-time lecturer at Cipriani College of Labour and Co-operative Studies.